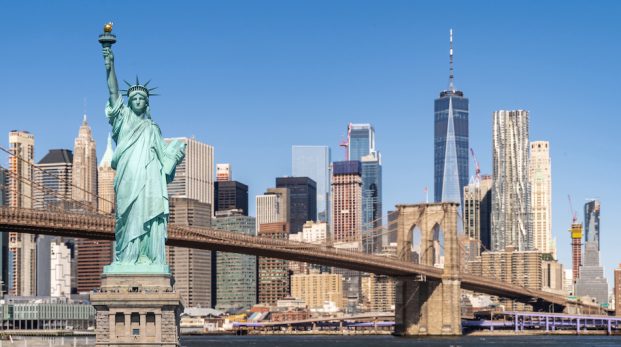 New York Cannabis Retail Licenses Issued — Delivery Drivers Wanted
The cannabis market turned eager eyes to New York in 2020 when the state finally moved forward with creating a recreational cannabis market. Two years later, things have been slow to kick off but are finally moving forward, with the Office of Cannabis Management issuing the first conditional dispensary licenses. Here's the latest on where the state stands.
The First of Many New York Cannabis Retail Licenses 
On November 21, NY issued the first 36 dispensary licenses. (The state was originally supposed to issue 150, but we'll get to that.) First, the lucky winners. 
Capital District Cannabis & Wellness Inc.

William Durham

D-Andrews LLC

Nube NYC LLC

Gabbys Green LLC

Essential Flowers

Brian Stark Enterprises LLC

Albert D Capraro

Strain Stars LLC

On Point Cannabis, Inc.

Smacked LLC

Brent L Rogers 

Root 12, LLC

Gabriel Marin 

Housing Works Cannabis LLC

Flrosun LLC

Growth Industries 

The Doe Fund LLC

Carl M. Anderson III

Royal Leaf NY LLC

Keep It A 100 LLC

CGG Enterprise Inc.

Cured NY LLC

Kush & Kemet LLC

Urban Weeds LLC

Gotham CAURD LLC

CWS Holdings I, LLC

Eastern Holdings 88 LLC

Planet 51 LLC

Stage One Cannabis LLC

Suzanne M Furboter

NYCCABUDS

Anthony Crapanzano

SAMJNY Holdings LLC

Union Chill Cannabis NY LLC

Hydro Phonics 
The state issued 28 licenses to individuals with personal or familial cannabis convictions. Additionally, eight licenses went to nonprofit organizations. These companies can now begin selling (and delivering) cannabis products, getting the ball rolling on the New York Cannabis market.  
As mentioned, it's a slow start to what many forecast to be one of the biggest markets in the world. According to MJBiz, the recreational market is projected to skyrocket to $1 billion in sales in the first year and reach nearly $2.7 billion by 2026.
Some Businesses Can Launch Delivery Services Before Opening 
Before issuing the dispensary licenses, the OCM announced via Twitter that license holders could begin a cannabis delivery service before opening a physical retail space. 
This approach is a big change from other recreational markets, and New York cannabis market is taking this approach for two reasons:
It's been a longer timeframe than expected to establish the rules and regulations for the supply chain. State residents have been waiting for nearly two years to buy legal products, and this announcement means companies can start filling the demand. By allowing these dispensaries to employ cannabis delivery drivers, they can begin bringing revenue faster.  

C

CAURD license holders were told they needed a state-approved retail space, and the state was still securing enough storefronts. Since the release of the licenses, the OCM

has dialed back that requirement

, but the winners still need physical locations. By allowing these companies to start cannabis delivery before they have storefronts, the businesses can get a better idea of monthly sales and revenue, which is vital for some landlords.

  
From a business owner's perspective, this is excellent news as it allows the potential revenue to flow as soon as possible.
But it also opens a new door for risk management; delivery services must vet and take on the risk of delivery drivers, manage auto liability and potential accidents, and worry about theft. It expands the necessary insurance policies for protecting your bottom line, but it's a challenge that can only be overcome with the right team on your side.  
Understanding the CAURD Approval Process 
The first round of dispensary licenses was issued through the CAURD approval process. CAURD, or conditional adult-use retail dispensary, is New York's version of a social equity cannabis fund, putting "justice-involved" individuals at the front of the line for receiving licenses. 
Applicants had to meet several other requirements to qualify for one of the 150 licenses, including a "significant presence" in the state, previous business experience, and proof of insurance. 
An insurance requirement before getting a license isn't unusual, but it can increase the money needed to get started. Since it makes little financial sense for an applicant to hold and pay for a policy before knowing they have a business, AlphaRoot provides a "letter of commitment" to companies that will move forward with a cannabusiness once the license has been awarded. (This isn't unique to NY — we can do it in every legal state!) 
The state received over 900 applications for cannabis retail licenses and had a healthy pool of applicants to choose from. They released the first 36 licenses on November 21, and more are expected to come over the following months. But there's another hold-up with issuing some of the licenses. Strangely enough, it has nothing to do with the Office of Cannabis management: a lawsuit from a Michigan-based cannabis company.
Problems the Issuance of Licenses Has Caused
Variscite NY One is suing NY and the OCM because of the specific license requirement that companies must have a "significant presence" in NY along with a criminal record for cannabis. The owner of Variscite has a cannabis charge in Michigan but no presence in NY. Due to this, the OCM must wait to issue 63 cannabis retail licenses in five areas until the lawsuit is resolved. 
When the license requirements were published, the "significant presence" requirement caused some uproar among larger cannabis companies. The NY medical market is run entirely by multi-state operators (MSOs), but this requirement puts these companies at the back of the line for recreational licenses. Many felt this was unfair, with a co-founder of Cresco Labs going as far as saying MSOs got "housed." However, smaller businesses and members of the NY legacy market celebrated this decision, calling it a leveling of the playing field. How long the lawsuit will take to resolve and how long it will delay the 63 licenses is unknown.
But both sides can agree on one thing — the New York cannabis market will be a booming place of business as residents eagerly await legal, tested cannabis products. Although the market rollout is taking longer than NY consumers would like, the state is trying to get it right the first time, which is a commendable effort.  
Protecting your cannabis company can seem confusing; however, we're a full-service insurance brokerage working with carriers worldwide to offer you the best coverage possible. We're here to help! Please reach out to us today by emailing [email protected] or calling 646-854-1093 for a customized letter of commitment or learning more about your cannabis insurance options.