Cannabis Event Insurance
Cannabis businesses are opening new doors for success through hosting or partaking in cannabis-related events. While having versatile canna-preneurs under one roof is a treat for guests, it can be tricky for retailers and vendors.
COMPREHENSIVE INSURANCE COVERAGE FOR YOUR CANNABIS EVENT
The right step for worry-free marijuana events, as a small business owner, is having special event insurance to support you against unforeseen challenges. Your existing insurance may not cover all the damages and delays you face, so a tailor-made event policy is exactly what you need.
Risks & Liabilities Cannabis Events Face
Marijuana events face various liabilities, but the four significant liabilities are;
Types of Cannabis Event Insurance Coverage
Depending on the nature of the special event, whether it's an open market or guest-list attendance, small business owners must go beyond regular coverage. You can add additional insureds to the event coverage you opt for.
Cannabis Event-Specific Coverage
To host or attend cannabis events, you must first legally acquire a Cannabis Event License. Afterwards, you can plan how often and to what scale you'll take your company for marijuana events.
Beyond regular coverage, here are some specific coverages you should consider:
Equipment
Coverage
Event equipment is not only expensive but also hard to manage. Sometimes, your business equipment (presentation equipment, vaporizing devices, smoking tools, etc.) also becomes part of your special event gear, which raises the risk of extra cost in damages.
Through equipment coverage, you're insured for any accidental or intentional damage to your equipment, as well as its replacement. So from your business to the special event venues and back, you won't have to worry about anything.
Event
Relocation
No matter how tediously a special event planner may be involved in details, sometimes circumstances are beyond everyone's control, and the event closes before it can begin. No company attending wants to be in a position where their time and money is going to waste, and insurers understand that struggle.
With event cancellation coverage, any wasted effort due to cancellation, postponing, or abandonment of an event is reimbursed to you.
Event Cancellation
Coverage
Starting a dispensary business from scratch involved raising sufficient capital.
In the current landscape, directors, and officers might be subjected to repetitional and financial setbacks if their businesses are sued.
Why Choose AlphaRoot for Your Dispensary Insurance Needs
AlphaRoot specializes in providing tailored coverage for cannabis businesses.
01

Their team has extensive expertise and a deep understanding of the unique risks faced by dispensaries, which allows them to offer comprehensive insurance solutions to every problem you face.
02

By working with AlphaRoot, you can rest assured that your Cannabis Event is adequately protected. AlphaRoot masters at assessing risks, recommending appropriate coverage plans, and customizing insurance policies to suit your needs.
03

Another pro of partnering with AlphaRoot is their commitment to exceptional customer care. If you want to collaborate with someone as dedicated and supportive as you are, AlphaRoot is the answer!
How AlphaRoot Brokers Your Cannabis Event Insurance
When you choose AlphaRoot as your Cannabis Event insurance broker, they take care of the entire insurance procedure for your business. This involves: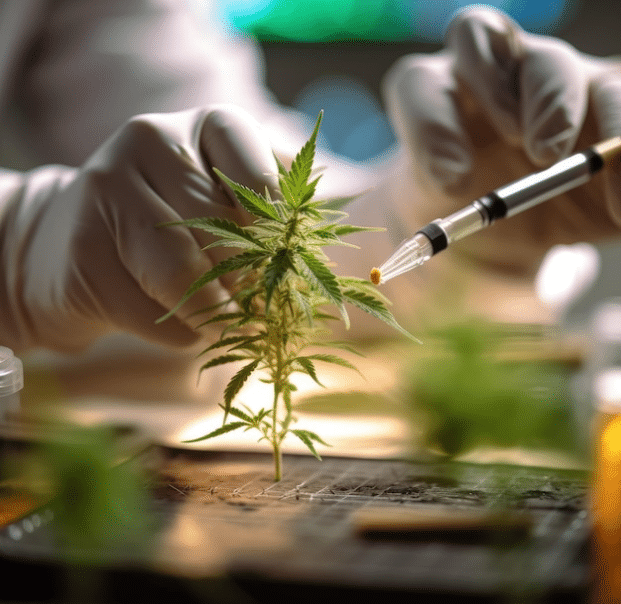 Assessing the needs of your business thoroughly.
Navigating various kinds of insurance to find the
best-suited insurance plan for your dispensary.
Tailor the chosen insurance plan according
to what your business requires.
Offer market-competitive rates for your dispensary's insurance plan.
Provide ongoing support and recommendations, whether it's
about insurance plans or state compliance requirements etc.
By hiring AlphaRoot for insurance brokerage, you will be saving your precious time and effort that you could invest in other business operations to ensure business progress.
Cannabis Event Insurance Quotes
AlphaRoot takes pride in charging market-competitive rates and ensures 100% transparency regarding what a plan covers. With AlphaRoot's custom-built online portal, you can request quotes for your Cannabis Event quickly and conveniently. The portal streamlines the process, eliminating the clerical tasks that often slow down traditional insurance brokerages.
Frequently Asked Questions
A special event insurance premium should provide coverage including basic policies such as General Liability, Product Liability, etc., as well as specific plans for equipment, event relocation, and cancellation coverage. Whether you're attending birthday parties, a conference, or a convention, you should create complete protection for your company.
Marijuana events insurance is your business's safety net if it chooses to host or attend a special event. It protects you, your products, and your company overall from damages and losses caused by guests, exhibitors, or unforeseen circumstances.
The cost of general liability insurance for a Marijuana events depends on several factors, such as the location of your business, the size, and revenue of your business, coverage limits, etc. For an instant quote, visit AlphaRoot's online portal.
Contact Us
For more information on Cannabis Event insurance or to discuss your specific insurance needs, contact AlphaRoot today. You can reach their knowledgeable team by mailing us at [email protected] or by calling (646) 854-1093. Our experts are eager to assist you with protecting your businesses!