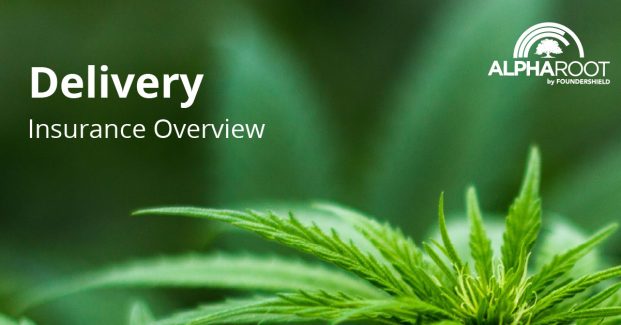 Insurance for Cannabis Delivery Services
Insurance for Cannabis Delivery Services Download our coverage overview for Cannabis Delivery Services here Most cities have understood the luxury of having their favorite groceries, restaurant meals, and supplies shipped to their door. Amazon Prime instant gratification options have been only increasing since the incept of Prime in 2005. Amazon brought in $75.5 billion […]
Insurance for Cannabis Delivery Services
Download our coverage overview for Cannabis Delivery Services here
Most cities have understood the luxury of having their favorite groceries, restaurant meals, and supplies shipped to their door. Amazon Prime instant gratification options have been only increasing since the incept of Prime in 2005. Amazon brought in $75.5 billion in sales revenue in the first quarter of 2020 (Amazon, 2020). They have changed the consumer facing needs of delivery to 2 days in under 10 years and hours in some cities presently.
Cannabis legalization is gaining momentum around the United States but not all states are legalized and the rules and regulations differ dynamically between state lines. However, the growing acceptance and medical use of cannabis allows some states to be able to deliver the product directly to the consumers especially due to the restriction of COVID.
Having the right insurance to cover the growing need for delivery service of cannabis is essential. It will help with its success to be legalized nationwide and the growth of delivery service options as consumer needs grow. 
Risks for Cannabis Delivery Companies
Driver Vetting / Safety:
One of the largest risks for any business that provides a delivery service is its driver vetting and safety protocols while they are on the road. The driver's record, vehicle and training are are critical components of making sure your delivery operation is running smoothly from a risk perspective. This exposure hits multiple aspects of a business' insurance portfolio. Should a driver be in an accident, the company's auto and workers compensation carriers will almost immediately be put on notice as both policies may be impacted. 
Employee Dishonesty:
Theft is a large exposure specifically for Cannabis companies and any carrier that is providing crime coverage will want to understand the policies/procedures in place to prevent theft. It stems from properly vetting employees and then implementing security procedures, as well as an inventory management system. 
Car Accidents Happen
The auto market is by far the most claim heavy space because of the frequency and severity of accidents. Any company that delivers goods with their own vehicle or employee vehicles need to mitigate this exposure. It is not "if" an accident occurs it is "when."
KEY INSURANCE POLICIES 
Auto Liability 
Auto liability, both commercial policies (owned auto) and hired /  non-owned auto policies, are intended to provide third party  liability coverage for incidents that occur as the result of a  company's employees / contractors driving on the company's  behalf. As general liability specifically excludes incidents that arise  from the use of an automobile, it is very important to purchase this  as standalone coverage. In this space most commercial auto policies have been rated on a per vehicle basis. This is an issue because the utilization of each vehicle is not the same, so why should the insurance cost be stagnant? We have partnered with some of the most unique and creative markets that can write auto with a per-mile rating basis, so the actual exposure is properly captured. This data is obtained through telematics that are implemented into the vehicle or are already instituted.
Worker' Comp (employees / 1099s) 
Workers' Compensation and Employers Liability (a portion of the  WC cover) are both intended to cover injuries that employees  sustain during the course of their work and are typically required  by state law. . 
Coverage for Property in Transit 
It is important to not only insure product / inventory when it is a  dispensary or warehouse, but also while it is in transit during the  delivery process. While some property policies can include  sublmitis of coverage for property while in transit, it is important  for delivery focused companies to purchase inland marine policies,  which are specifically designed to provide coverage for property  while in transit. 
Crime 
Crime insurance is designed to protect the company from loss  caused by certain illegal activities. Unlike many other commercial  insurance policies, it has little to do with defending against lawsuits  from third parties. This policy instead reimburses the company  itself for losses of money, securities or other tangible property that  it directly experiences. 
AlphaRoot is a full-service insurance brokerage completely dedicated to strengthening and supporting the cannabis industry. If you'd like to learn about building a risk management program for your company, reach out to us at [email protected]