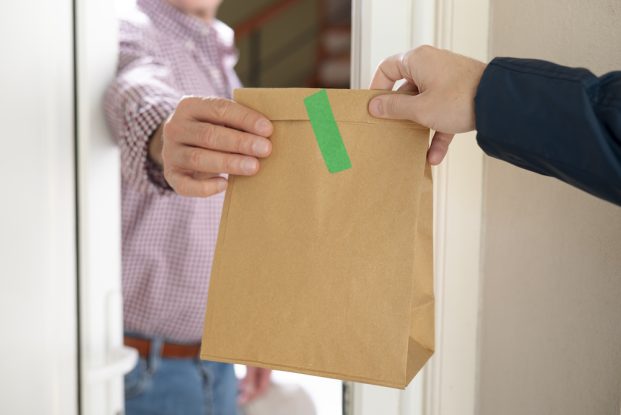 Insurance Guide for Cannabis Delivery Services
With more states focused on legalization, cannabis delivery services are increasingly in demand. Here's how to protect your budding delivery service.
Most city residents are familiar with the luxury of having their favorite groceries, restaurant meals, and supplies shipped to their door. It's no surprise that cannabis consumers are jumping on this trend. However, while cannabis delivery services are a positive leap forward, it comes with specific risks. Let's talk about this emerging demand and how cannabis companies can protect themselves as they expand their services. 
Understanding the Demand for Delivery Services
Amazon Prime's same-day delivery options, otherwise known as instant gratification, have continued to increase since the incept of Prime in 2005. Amazon brought in $75.5 billion in sales revenue in the first quarter of 2020. And it's no surprise as they've changed the consumer-facing delivery needs to two days in under ten years. In some cities, rapid delivery lands a product on your doorstep within hours of ordering. 
But what does Amazon or delivery services have to do with the cannabis industry?
Here's the gist: cannabis legalization is gaining momentum in the US — but not all states have legalized it. Plus, the rules and regulations differ dynamically between state lines. Yet, the growing acceptance and medical use of cannabis means some states can deliver the product directly to consumers, mainly due to the restriction of COVID-19.
However, with new opportunities come new risks. Companies must have the proper insurance to cover the increasing demand for cannabis delivery services. Legalization will help tremendously, and we're on the right track. But delivery services must offer options to meet growing consumer needs.
Risks for Cannabis Delivery Companies
Cannabis companies face various risks, depending on their vertical. Let's review some of the most prominent exposures cannabis delivery companies must navigate.
Driver Vetting and Safety
Two of the most significant risks for companies providing delivery services are driver vetting and roadway safety protocols. The driver's record, vehicle type, and training are critical components in ensuring your delivery service operates safely and smoothly. 
Driver vetting and safety impacts multiple aspects of a cannabis company's insurance portfolio. If a driver is in an accident, the company will notify its auto liability and workers' compensation carriers as both policies respond to the incident. Naturally, this impacts each policy differently.
Employee Theft
Theft is a massive exposure for cannabis companies. Any carrier providing crime coverage wants to understand standard procedures preventing theft. Some widely accepted best practices (sometimes requirements) are properly vetting employees, implementing security procedures, and using an inventory management system. 
Auto Accidents
The auto market is the most claim-heavy space, primarily due to the frequency and severity of accidents. Any cannabis operation delivering goods via a company or employee vehicle must mitigate this exposure. It's not if an accident happens; it's when, even if it's only a fender bender.
Recommended Cannabis Delivery Insurance
Cannabis delivery has specific risks that operators must address to remain on the path to profitability. Cannabis insurance protects operations, from dispensaries to cultivators. And many of the same policies apply to many verticals. The following are delivery-specific coverages we recommend.
Auto Liability
Auto liability insurance — commercial policies (owned auto) and hired and non-owned auto (HNAO) policies — provide third-party liability coverage. These policies respond to incidents when employees or contractors drive on the company's behalf.
General liability specifically excludes incidents arising from an automobile, so you must use auto liability as standalone coverage. Most commercial auto policies have been rated on a per-vehicle basis. This approach creates an issue because each vehicle is not used the same, so why should the insurance cost be stagnant?
We have partnered with some of the most unique and creative markets that can write auto with a per-mile rating basis, so the actual exposure is properly captured. This data is obtained through telematics implemented into the vehicle or already instituted.
Worker' Compensation
Workers' compensation and employer's liability (a portion of the WC cover) cover injuries that employees sustain at work. In the US, all states except for Texas require this coverage according to state law.  
Coverage for Property-in-Transit
Cannabis companies must insure their product and inventory when it is a  dispensary or warehouse. However, they need the same protection while it's in transit during the delivery process.
Some property policies can include sublimits of coverage for the property while in transit. However, cannabis delivery companies should purchase inland marine policies to provide coverage for the property while in transit.
Crime
Crime insurance protects the company from loss caused by specific illegal activities. Unlike many commercial insurance policies, it has little to do with defending against third-party lawsuits. This policy instead reimburses the company itself for losses of money, securities, or other tangible property that it directly experiences.
---
Protecting your cannabis company can seem confusing; however, we're a full-service insurance brokerage working with carriers worldwide to offer you the best coverage possible. We're here to help! Please reach out to us today by emailing [email protected] or calling 646-854-1093 for a customized letter of commitment or learning more about your cannabis insurance options.