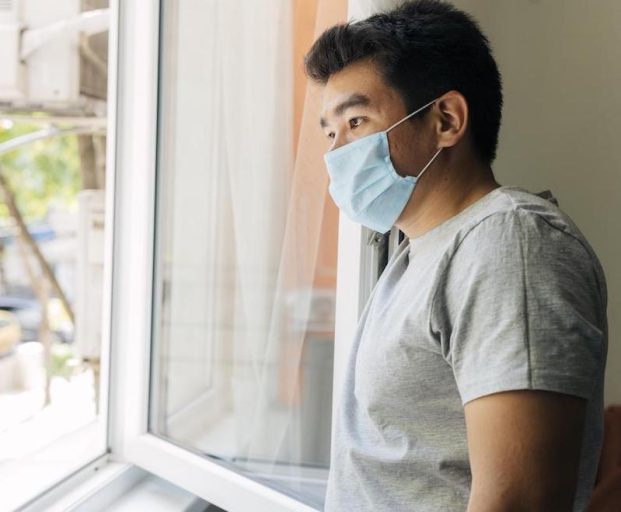 How the Pandemic Blew the Lid Off of Psychedelics — Understanding the Impact
The global pandemic blew the lid off of psychedelics with a huge impact. People realized its many mental health benefits, and cannabis led the way. Here's how it all unfolded.
2022 is the year of psychedelics. Several cities have decriminalized substances, a handful more have the issue on the ballot this year, and the countdown is on for Oregon's psilocybin program to come online. But how did we get here, full steam ahead, in an industry that just ten years ago was unfathomable? 
The single biggest catalyst to the burgeoning psychedelics industry was the COVID-19 pandemic. While it's still too early to understand the full scope of the pandemic's impact on psychedelics, we can draw some conclusions. 
Making Sense of a Bleak Landscape
In a few short months, COVID-19 shut the world down. International and domestic travel ground to a halt, states implemented stay-at-home orders, and all businesses that weren't essential were closed. Life as we knew it came to a screeching halt. 
While staying at home and not working sounds fun in theory, it quickly became a nightmare in practice. People were isolated from their usual support systems, and friends and family members in different houses went weeks without seeing or touching each other. 
Any semblance of the daily structure was lost without going into the office, and seeing people over Zoom was a weak facsimile for real human interaction. Even going to the grocery store was alien when everyone wore masks or face shields, and shelves normally stocked full were laid bare. Some stores even went as far as implementing purchase limits on toilet paper, paper towels, pasta, and other home goods. 
In short, people were bored and scared. One study from Boston College found that reports of depression increased by 44%, and reports of anxiety increased by 50%. Little wonder, then, that people turned to substances to cope. One study of 832 adults found that 60% of respondents reported increasing alcohol consumption during the pandemic. At the same time, cannabis was available for more people than ever before.  
Cannabis Led the Transformation
One phenomenon that's been well reported on is the pandemic's impact on cannabis. It was deemed an essential business in states where the plant was legal. Dispensaries and retail stores pivoted from in-store experiences to online ordering, curbside pickup, and delivery services. And sales were through the roof, totaling $18 billion, a 71% increase from 2019. 
Cannabis provided a different kind of outlet for people, one that wouldn't leave them nauseous, headache-y, or hungover. Stimulating your endocannabinoid system has a plethora of positive health benefits, including reducing stress and boosting your mood — two things people desperately wanted. 
Cannabis is often marketed as a wellness product. Unsurprisingly, health was front and center in people's minds in 2020. The "devil's lettuce" went from forbidden fruit to the next hottest wellness trend. 
Being stuck at home provided another benefit to the cannabis industry — people who were curious about the plant but too nervous to try substances with deadlines looming and plans to fulfill suddenly had the time and privacy to explore. 
Smoking is an intimidating form of consumption for many people, but edibles, beverages, and topicals are easy to approach. When you could get what you needed without leaving your car, it's easy to understand why so many people turned to cannabis. 
As cannabis' popularity (and sales) continued to grow, it forced the question: what other plant-based substances could actually be helpful for people? 
How the Pandemic Changed the Psychedelics Industry
The legal psychedelics industry was just beginning before the pandemic, but the full scope of the pandemic's impact on psychedelics is still unfolding. 
The tide was already starting to turn before COVID-19 made landfall in the US. In 2019, the FDA granted "breakthrough treatment" status to psilocybin for its ability to treat treatment-resistant depression and major depressive disorder. With more than 17 million people in the US suffering from severe depression, this was a big step forward for psychedelics. (And that number only increased after the pandemic.) The same year, the FDA also approved a ketamine nasal spray for depression, bringing two psychedelic substances into the spotlight. 
As the problems with current mental health treatment became harder to ignore, more companies and people turned to psychedelics as the answer. Like cannabis, psychedelic use grew during the pandemic. Research and development increased as companies sought to become the next big thing in mental health treatment. Suddenly these substances weren't "hippy party drugs" but legitimate medical treatments for brain ailments.  
What We Expect for Psychedelics in the Future 
Where do we go from here? Onwards and upwards. The research train on psychedelics has left the station, and human trials of MDMA, psilocybin, and ketamine are all moving forward. Recent studies have been focused on repeating the results of the 1950s and 1960s, but many scientists believe we have only scratched the surface of what psychedelic substances are capable of. 
Though the psychedelic industry still has an uphill battle, the tide is turning thanks to many substances' federal Schedule I designation. Cannabis paved the way for social acceptance of plant medicine, and psychedelics are gratefully following in its wake. More practitioners understand the potential benefits of psychedelic substances, particularly when integrated with therapy sessions. 
The psychedelics industry is a wealth of opportunity for fearless entrepreneurs, and it's one that venture capitalists are watching closely. The number of start-ups and investors will continue to grow as regulations shift and catch up with 21st-century knowledge. The impact the pandemic has had on psychedelics is something that will continue to unfold for years to come. 
---
Protecting your psychedelics company can seem confusing; however, we're a full-service insurance brokerage working with carriers worldwide to offer you the best coverage possible. We're here to help! Please reach out to us today by emailing [email protected] or calling 646-854-1093 for a customized letter of commitment or learning more about your cannabis insurance options.