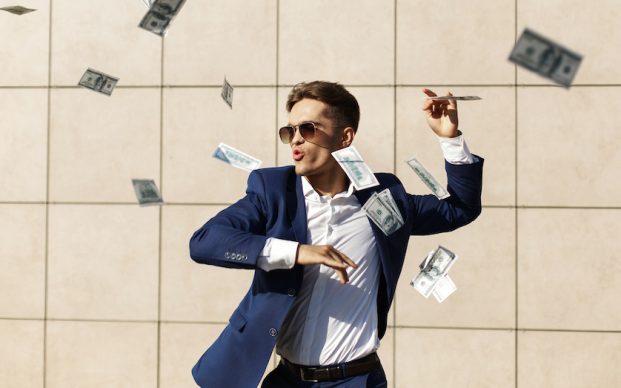 Investors Are Tripping on Psychedelics — Here's What We Know
Cannabis companies know raising capital is challenging, but with every rule there is an exception — and psychedelics may be it. We have the inside scoop about why investors are tripping.
In any emerging industry, raising capital is a challenge. Cannabis companies know this well, but with every rule there is an exception — and psychedelics may be it. Though legal psychedelics are just getting started, venture capitalists and investors are already showing signs of great interest in this industry. Investors are tripping on psychedelics (pun intended) — here's why. 
What's the Backstory with Psychedelics?
For decades, psychedelics have been misunderstood. They were first hailed as breakthrough medicines in the 1950s and 60s, expanding the limits of what was possible for treating trauma, addiction, and more. But after the government quashed research and started a campaign of misinformation with the Controlled Substances Act of 1970, these incredible substances were seen as nothing more than party drugs. 
This message, of course, couldn't be further from the truth. Psychedelics are powerful forms of medicine that have been instrumental in spiritual and religious ceremonies for millennia. And today, the push for legal psychedelics is changing how we view mental health and mental health treatment. While the cannabis industry is comparatively mature, and thus more expensive to break into, psychedelics are still on the precipice of the mainstream — presenting a ground floor opportunity for visionary venture capitalists. 
What's All the Fuss in the Psychedelics Investment Landscape? 
The potential return on investment in psychedelics is an opportunity that's already well-recognized. One prediction puts the legal psychedelic market at a growth rate that stands to outpace even cannabis; from a market value of $2 billion in 2020 to a projected $10.75 billion in 2027. 
But given the current legal status of psychedelics in most states and federally, you may wonder what the investment fuss is about — why invest in substances that aren't even legal yet? 
Fortune breaks it down well, highlighting three key points that are driving psychedelics investment including: 
The global need for effective mental health treatments

Evolving legislation and regulation

Widely supportive public opinion
It is, you could say, a perfect storm for the rise of legal psychedelics. Public opinion is more open to alternative medicine than perhaps ever before, and psychedelics are (wisely) riding the wave of cannabis legalization. 
With the COVID-19 pandemic having a still-untold effect on mental health and Oregon coming online in 2023 as the first state to legalize psilocybin, forward-thinking investors are seeing a once-in-a-lifetime opportunity. And the numbers don't lie — investment in psychedelic companies are on the rise, as evidenced in this graph from CB Insights: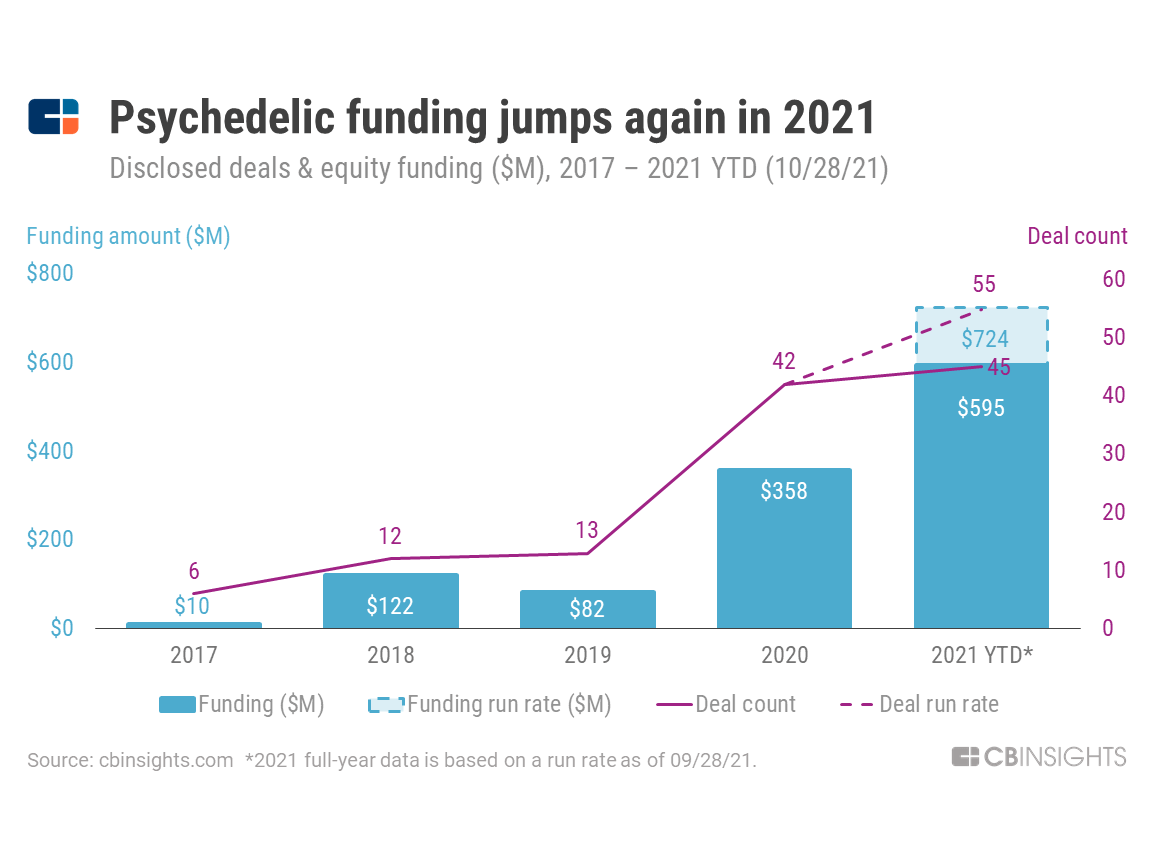 But what's the market sector? Psychedelics companies are regarded as biotech companies, which means investors are balancing the probability of failure (inevitable for some businesses in any industry) with the potential return on investment of 10, 20, or even 50 times their initial investment! 
With the ROI on drug development in decline for traditional pharmaceuticals, psychedelic substances are also piquing the interest of large pharmaceutical companies — something that would have been unthinkable a mere five years ago. 
Who Are the Most Active Psychedelics Investors? 
Thanks to the magic of the internet, it's easy to find the investors who are most active in the psychedelic industry — and there's no shortage of venture capital to go around (cannabis is green with envy.) 
An incomplete list of psychedelic investors includes:
Able Partners 

The Conscious Fund 

Explorer Equity Group

Neo Kuma Ventures

Noetic Fund 

Pay It Forward

Thiel Capital 
What Benchmarks Should You Reach Before Sourcing Capital?
It's clear that there's money to go around in psychedelics — but competition is heating up just as quickly as bank accounts are filling. What can you do to set yourself up for success when sourcing capital? 
Have a clearly defined business model

. Sure, it seems obvious, but fledgling psychedelic companies can put passion over organizational structure, which leads to

long-term problems for investors

. The movement beyond decriminalization into full-blown legalization helps with this (and projected profitability) but it's still on you as the business owner to understand and clearly define how your business works. Having a defined business model also includes having a fleshed-out financial plan, which is key for investors. 

Have enough monthly revenue and year-over-year (YOY) growth.

What's enough? $80,000 – $100,000 in monthly revenue and tripling your income YOY are

good benchmarks

to aim for before searching for investment. 

Maintain your growth — sustainably

. Rapid growth is exciting, but investors want to know you can handle the ebb and flow of the market. Psychedelics may seem like a fast track to the top, but every industry has to weather its own storms. How big is your market now? How big will it be in three years? Understanding your marketing and acquisition costs alongside your projected growth rate is something investors want to see. 

Have the proper insurance coverages

, including

Directors and Officers (D&O) Insurance

. While other policies are low-hanging fruit for a business, having D&O coverage can be a differentiator for an investor and a sign that you understand the importance of having a safety net. It's not enough to cover your product and your employees

—

your c-suite executives can be at risk for personal litigation, which is a red flag for investors.
---
Protecting your psychedelic company can seem confusing; however, we're a full-service insurance brokerage working with carriers worldwide to offer you the best coverage possible. We're here to help! Please reach out to us today by emailing [email protected] or calling 646-854-1093 for a customized letter of commitment or learning more about your cannabis insurance options.