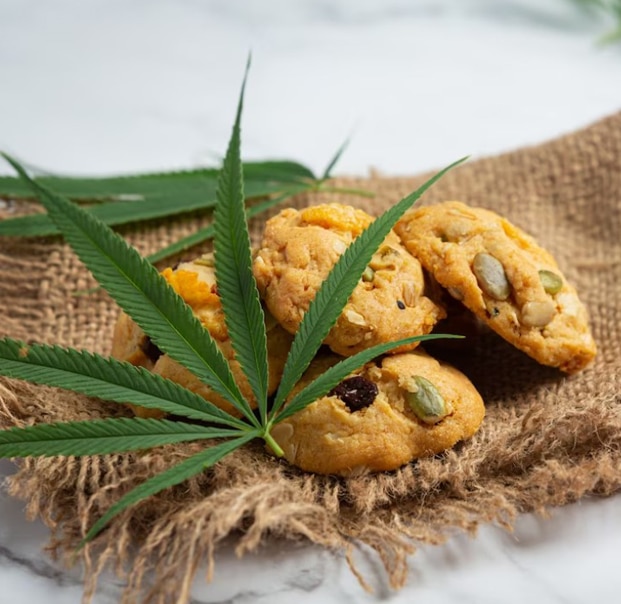 What Insurance Do Small Cannabis Businesses Need?
Part of a robust risk management plan is buying cannabis insurance for your small business — but what do small businesses need? We have the answers
Small businesses in any industry face an abundance of risks, and this is compounded in cannabis. A small cannabis business will face common risks like general liability while also having to juggle regulatory compliance and cannabis-specific risks, like working in a cash-only industry. 
Managing risk is enough to make your head spin — but we're here to help. While the proper suite of insurance policies for cannabis startups (or businesses of any size) is unique to your company, there are several policies that every business needs. Here's what you need to know about insurance for small cannabis businesses. 
Risks Small Cannabis Businesses Face
Cannabis businesses face two kinds of risks; general business risks and cannabis-specific risks. The former is a category that all types of businesses face — no matter the size or industry. These are risks that you're likely already familiar with, like the notorious "slip-and-fall" scenarios. The latter category are risks that are specific to the cannabis industry, created by prohibition, regulations, and the value of the plant. Let's discuss each type more in-depth.
General Business Risks 
General liability 
Every business with a physical location that holds customers or employees faces general liability risks; the risk of someone falling or property being damaged always exists. General liability policies are often called "slip-and-fall" insurance, highlighting the ubiquity of the risk. 
Work-related injuries 
Workplace-related injuries are not relegated to a single industry or a single location. Whether you have employees working onsite or at home, every business must face the risk of having to cover medical bills and lost wages if an employee gets hurt on the job. 
Cyber 
In our digital age, incurring cyber risks is a cost of doing business. There is no company or entrepreneur that does not use the internet at some stage of business, opening the door to phishing, scams, lost data, and identity theft. Companies that work with sensitive medical data have an increased cyber risk because of the inherent privacy of the data. 
Cannabis-Specific Risks 
Property 
The risk of property damage is incurred by cannabis businesses with a physical location, regardless of vertical. Property damage can come in many forms, from a raging storm to unpredictable weather patterns to intentional vandalism or crop loss. The prohibition of cannabis has made the plant and its finished forms high-value products. Because cannabis is still illegal in many parts of the country and looked down on in others where it is legal, theft or product damage is always an unfortunate possibility. 
Product liability
Any cannabis company that manufactures, tests, packages, or sells tangible products has product liability risk. Were someone to fall ill as a result of a product, every company that has touched the product in the supply chain is at risk of being named in a lawsuit. 
Theft
Much of the cannabis industry still operates in a cash-only space, which creates a massive risk unseen in any other industry. Working in a cash-only space, as well as the inherent value of cannabis products, increases the likelihood of theft and robbery.
Financing 
Since cannabis remains federally illegal, financing and banking can still be hard for cannabis companies to navigate. Until something changes at the federal level (like the passage of the much-debated SAFE Banking Act) this area of business will continue to be a challenge for cannabis businesses. 
Funding
Federal prohibition makes all areas of money a challenge in the cannabis industry. While funding for scientific studies has started to open up as cannabis becomes legal in more states, there is still a massive gap in cannabis funding, for both scientific studies and private companies. 
How Cannabis Businesses Can Manage Risk
With so much risk in the cannabis industry, it sometimes seems like a wonder anyone ventures in at all. But the cannabis plant has a habit of bringing passionate and dedicated people together, and managing your risk doesn't have to make you lose sleep at night. Here's how cannabis startups and full-size companies can manage their risk. 
Follow best practices
Risk is a two-sided coin; the problem and the ways to manage it. For every risk a business faces, there are best practices to help manage and mitigate the risk level. 
Following cybersecurity best practices, such as two-factor authentication, regularly changing passwords, and educating your team about staying cyber-safe can help lower the risk of an attack. The risk of theft can be managed by locking up inventory and cash in a safe in a secure room at night, and workplace injury risks can be managed by following OSHA's best practices. 
Have a backup plan
Knowing the risks you face is important, but so is having a plan in place for what to do if the risk occurs. Whether you develop a recovery procedure, pivot to plan B, or choose to change course entirely, having a plan in advance makes every worst-case scenario a little less terrifying. It's not fun to think through worst-case scenarios, but you'll feel better for having a plan in place. 
Follow the five risk management steps 
Developing a risk management plan is the most comprehensive way to reduce your exposures. A risk management plan is a "living document that identifies, assesses, and tracks areas of exposure in your business." 
There are five steps to developing a risk management plan: 
Identification: naming all of the risks your business faces  

Analysis: calculating the damage each risk would cause to your business

Evaluation: creating a plan to deal with your risks based on likelihood and potential damage. 

Tracking: following your exposures over time 

Treatment: this is the stage where you take action, in the form of developing a plan or purchasing a cannabis insurance policy (or a few.)
Recommended Insurance Policies for Cannabis Businesses
While insurance policies are not "one-size-fits-all" for cannabis companies, there is a set of policies that work to cover your bases. These are the cannabis insurance policies we recommend for small cannabis companies and startups. 
General Liability
General liability offers broad protection against some of the most fundamental risks cannabis companies face. Known as "slip-and-fall" or "all-risk" insurance, this policy covers personal or property damage and bodily injury occurring on the business premises.
Cyber 
Cyber insurance protects companies from third-party lawsuits relating to electronic activities (i.e., phishing scams). Plus, it offers many recovery benefits, supporting data restoration and reimbursement for income lost and payroll spent.
Errors & Omissions
Technology drives most cannabis companies' success in the modern world. If a tech issue arises, such as a newer software causing a third party's older system to crash, liability becomes a massive problem. Tech E&O, usually teamed with cyber liability, covers legal fees and other related costs in the event of a lawsuit.
Property 
This policy is first-party coverage that protects the Total Insurable Value (TIV) of your operation's property, reimbursing cannabis companies for direct property losses.
Product Liability
Cannabis companies offering tangible products or services risk third-party lawsuits claiming bodily injury or property damage. Products liability insurance covers defense fees and settlements, even for ungrounded claims. This coverage is particularly critical in the cannabis space as testing and manufacturing aren't regulated at the federal level. 
Workers' Compensation
Employers are typically responsible for their medical costs and lost wages when employees sustain work-related injuries. This policy covers these expenses, protecting employees while simultaneously keeping cannabis companies running smoothly.
Employment Practices Liability
Cannabis companies with any number of employees face the risks of allegations, such as discrimination, wrongful termination, breach of contract, etc. This coverage protects cannabis companies against lawsuits related to employment practices.
How AlphaRoot Can Help Cannabis Businesses Launch
There's a lot to manage when running a small cannabis business, and having partners in your corner who understand the industry can make a world of difference.
AlphaRoot works almost exclusively with companies in the cannabis industry, giving us a firsthand look at the ways we can make the strenuous process a little easier. One of those ways is with a cannabis insurance letter of commitment. 
An important part of launching your cannabis business is having a risk management plan that includes insurance coverage. But, having insurance policies before your business is up and running can be too big of a holding cost for a small cannabis business or startup. At AlphaRoot, we provide our clients and prospective clients with a letter of commitment that certifies a company has engaged us for insurance purposes which will become active after the necessary license is awarded. 
A letter of commitment states "AlphaRoot LLC and our carrier partners have engaged (Company) and discussed their insurance needs. In the event that (Company) is awarded the license with the city, we will work on (Company) behalf to obtain the necessary quotes and limits outlined by the city of (City) (State) as evidenced by a (Company) certification of insurance."
Typically the referenced insurance quotes include the following lines of coverage:
Commercial General Liability

Products Liability

Property

Workers' Compensation
A letter of commitment from an insurance carrier like AlphaRoot can help cannabis startups and small businesses by showing proof of insurance while keeping the holding costs of starting a business low. 
_
Protecting your cannabis company can seem confusing; however, we're a full-service insurance brokerage working with carriers worldwide to offer you the best coverage possible. We're here to help! Please reach out to us today by emailing [email protected] or calling 646-854-1093 for a customized letter of commitment or learning more about your cannabis insurance options.