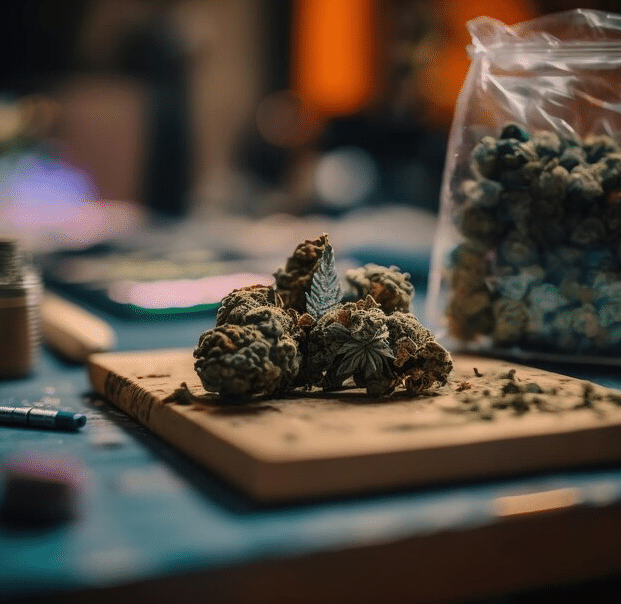 How to Get a Cannabis License in California
Learn the step-by-step process of obtaining a cannabis license in California and gain valuable insights and guidance for successfully entering and thriving in the dynamic cannabis industry. Discover key strategies for navigating regulations, market trends, and building a sustainable cannabis business.
Legalizing cannabis in California has created a promising opportunity for entrepreneurs and business owners, but navigating the licensing process can be complex and challenging.
This article offers a comprehensive step-by-step guide to obtaining a cannabis license in California. Keep reading to understand the requirements and procedures for acquiring a California cannabis license.
Cannabis License Regulations in California
With medical and adult-use cannabis legalized in the State since 2016, California's cannabis industry is booming.
In 2020, the State's cannabis market reached a record $4.4 billion in sales. Despite the high growth, the industry's commercial activities are heavily regulated by the Department of Cannabis Control(DCC).
California cannabis businesses can not operate without a valid license granted by the DCC. You cannot transfer the obtained licenses; each location where the business operates needs a separate license.
Currently, California has over 12,000 cannabis licenses, with no cap on the number of licenses. This includes licenses for:
Cultivation
Manufacturing
Distribution
Testing
Retail
Cannabis Event Organizers
Microbusiness
Despite having no cap on licenses, cannabis businesses in California face significant regulations and compliance hurdles to obtain their licenses.
How to Obtain a Cannabis License in California?
Getting a cannabis license may be challenging, but it's not impossible. Here are the general steps involved in obtaining a cannabis license in California:
Note: Some of the steps discussed might differ depending on the license type, so always check with the DCC while you're applying for a license.
Research and Prepare
The first step for obtaining your California cannabis license is to prepare thoroughly for it. You should familiarize yourself with each step of the application process and its requirements. It's important to gain information regarding licensee eligibility criteria, including background checks and residence permits.
In California, every city and county has the authority to establish its own regulations concerning commercial cannabis operations. It's crucial to conduct thorough research on your local jurisdiction to understand whether you can engage in commercial cannabis activities there. Additionally, it's essential to uncover the specific requirements and restrictions you must adhere to. If you're wondering, "how much is a cannabis license in California," this information is also crucial to consider while navigating the local landscape.
Before moving on to the next stages of your application, you must complete your local permitting requirements. You can get reliable information regarding license eligibility from the DCC website.
Develop a Solid Business Plan
Once you understand the requirements for your cannabis business, the next step is to develop a comprehensive business plan.
Your business plan should include
A description of your company and your brand
Operating Agreement
Organizational Structure
Market and competitor analysis
Sales and marketing strategy
Financial projections
Budgets
Security measures
Management and organization of the team
Risk management strategies
Compliance strategies
Note: It is best to seek professional legal and business assistance to ensure your business plan meets the specific requirements if you're new.
Assemble the Necessary Documentation
Assembling the necessary documents for the application can be a time-consuming process. The type and extent of documentation may change depending on the type of license you opt for.
Here are some of the general documents you will need for the California Cannabis License Application.
Proof of identification and residency in California
Proof of financial stability and funding sources
A premises diagram
Proof of a surety bond of at least $5,000 per premise payable to the State of California
Evidence of CEQA compliance
A complete list of every financial interest holder
A complete list of every owner
Local jurisdiction permits
Standard Operating Procedures Form (DCC LIC 019)
Landowner Approval Consent Form (DCC-9206)
An attestation that the proposed premises complies with Business and Professions Code
A valid seller's permit number or proof of application for a sellers permit (if applicable)
Labor Peace Agreement Form (DCC-9205)
You can get a full list of the documentation needed for your license at DCC's website or look at this application checklist.
Submitting the Application
Once you're done with assembling the necessary documents, you can move on to filling out and submitting your application for a California Cannabis License.
First, you have to create a licensing system account on the DCC's website. The DCC has three licensing portals for different types of licenses, so make sure to use the one that corresponds to your license type.
The first part of the application requires information about your cannabis business, including (but not limited to) the name of the business, the name of the owner, license types, and the location of your business.
The license application is very long and comprehensive, so make sure you complete each part thoroughly and double-check to make sure everything is accurate. The application saves your progress as you complete it, so don't worry about rushing the application and completing it in one sitting.
Once you've inserted the required information and uploaded the necessary documentation, you must pay your application fee before submitting your application.
Note: The DCC will commence the processing of your application once you have successfully cleared the DCC license cost.
Application Fee
There are two types of fees for cannabis licenses:
Application Fees – due when you submit your application
License fees – due when your application is approved
Application and License fees differ based on your license type and the size of your cannabis business. Fees for different types of licenses are outlined below:
1. Retail
Application Fees: $1000
Annual License Fees: $2500 – $96,000 (depending on the Gross Annual Revenue (GAR) of the business)
2. Cultivation
Application Fee: $135 to $8,655 (depending on the type of license)
Annual License Fees: $1,205 to $77,905 (depending on the type of license)
3. Manufacturing
Application Fee: $500 or $1000 (depending on type of license)
Annual License Fees: $2000 to $75,000 (depending on license type and GAR)
4. Distribution
Application Fees: $1000
Annual License Fees: $200 to $180,000 (depending on license type and GAR)
5. Testing Laboratory
Application Fees: $1000
Annual License Fees: $3000 to $112,000 (depending on GAR)
6. Cannabis Event Organiser
Application Fees: $1000
Annual License Fees: $3000 to $20,000 (depending on the number of events)
Note: Temporary licenses for cannabis events are $1,000 per event.
7. Microbusiness
Application Fees: $1000
Annual License Fees: $5000 to $300,000 (depending on GAR)
Application Review and Compliance Inspection
After the application is submitted, the DCC conducts a thorough review of the application before granting the license. At this stage, you may be asked to submit additional documentation or information regarding your application.
The application process generally takes a few months. After approval, you will be issued a provisional license allowing you to start your operations while waiting for the final license.
Before getting your license, you will be subjected to compliance inspections by the DCC and other relevant agencies. This is to ensure your business and its operations comply with state regulations.
These inspections assess your compliance with state laws, regulations, and safety standards. They may also cover various areas such as security, record-keeping, inventory management, and sanitation.
To pass the compliance inspections and receive your license, it's important to be well-versed in state and county cannabis regulations and ensure that your business follows them properly.
Regular internal compliance audits can help you identify and address areas of non-compliance in your operations so that you are able to pass any inspections.
Maintaining ongoing communication with the licensing authorities throughout the process is also important. This includes promptly responding to inquiries or requests for additional information and keeping them updated on any changes or developments related to the application.
Receiving the Final Application
Once the application review and compliance inspections are successfully completed, the DCC can approve your license.
At this stage, you are required to pay the annual license fee. Once you clear all the dues, you can operate your cannabis business with ease and a valid final license!
Remaining Compliant with California Regulations:
It's crucial to remain compliant with the state regulations and license requirements even after receiving your final license. Failing to comply with the regulations can result in hefty fines and risk of losing your license.
Common compliance measures that you need to keep in mind while operating your business
Regularly updating Metrc, California's seed-to-sale tracker
Notification of theft, loss, and criminal activity
Compliance with product testing, packaging, and labeling requirements
Compliance with Insurance and inventory requirements
Security regulations
Compliance with record-keeping regulations
To remain compliant, you can notify the DCC of changes in business operations by filling out the Licensee Notification and Request Form (DCC-LIC-028) and submitting it for approval.
Note: Establish robust compliance protocols aligned with California regulations and stay informed about any regulatory updates or changes in the state cannabis regulations.
Final Thoughts
Obtaining a cannabis license in California requires careful preparation, adherence to regulations, and a thorough understanding of the licensing process.
By following the steps outlined in this guide, you will be well-prepared to navigate the complexities and maximize your chances of acquiring a cannabis license in California.
Remember to stay insured, and informed, seek professional advice when needed, and remain committed to operating a compliant and responsible cannabis business in accordance with California regulations.