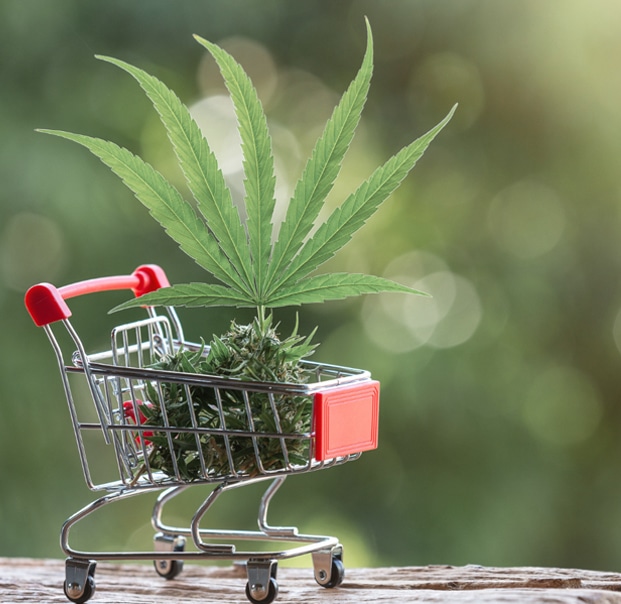 How Cannabis Insurance Protects your Dispensary Staff and Storefront
Cannabis insurance is more than a task to check off your licensing to-do list; it's multi-layered protection for your workforce, retail storefront, and financial future. Here's how.
Cannabis insurance is a crucial part of running a dispensary. As exciting as it is to launch a cannabis business, it can be a costly endeavor. For example, consider the initial price tag of the property where you'll establish your storefront. Additionally, dispensary founders must consider maintenance fees, regulatory compliance costs, and everyday business expenses. It can add up quickly. As a result, cannabis insurance products help founders protect their assets, from their staff to storefront to inventory. Let's discuss some of these vital insurance solutions.  
"All-Risk" Coverage
General liability insurance typically covers personal or property damage and legal fees in the event of a lawsuit. It also responds to bodily injury incidents on business premises, such as the notorious "slip-and-fall" scenarios. Many people refer to general liability as "all-risk" insurance as it offers broad protection against many threats.
Another standard protection general liability provides is against property damage clients incur while on your premises. Suppose a client brings their hot latte into your dispensary but spills it on your new intuitive Dispensary Point of Sale (POS) system, causing damage to the software. General liability would respond to cover the repair or replacement costs for the damaged POS system. 
While very few of us want to think about these unfortunate occurrences, assessing these foundational business risks is a part of the risk management process. Fortunately, general liability provides a wide safety net for dispensaries. 
Product Liability 
Product liability insurance is essential coverage to safeguard your business. This policy protects against third-party lawsuits claiming bodily injury or property damage. It usually covers legal fees and settlements, regardless of whether the claim is grounded. Remember, the federal government doesn't regulate testing and manufacturing for cannabis retailers, making this coverage critical. 
For example, suppose someone buys a cannabis product from your dispensary and has an allergic reaction. This person could sue your dispensary for medical expenses related to their allergy and other damages resulting from using the product (i.e., missed work, etc.). Product liability insurance typically covers these costs so long as they are directly related to a purchase made at your dispensary.
Making sense of product liability can seem confusing. After all, although cannabis has been around for ages, standards in this industry are as emerging as the businesses. It helps to work with a risk management veteran who has "been there, done that" and specializes in cannabis. 
Crime and Theft Protection
Money theft is a genuine threat to dispensaries. Like any retail establishment, your dispensary must protect its assets from thieves, internal and external. Unfortunately, theft can result in significant financial losses for your business and damage your reputation and customer trust.
Whether employees steal from the cashbox or your store is burglarized, losses happen. Crime insurance responds to these damaging situations, protecting your dispensary from the damages these violations can cause. 
Remember, you can do your part to prevent theft by complying with theft provisions in your property insurance policy. Briefly, here are a few ways to implement preventative measures which can help provide evidence or testimony in the event of theft:
Security cameras are essential for preventing product theft by identifying potential suspects who may be stealing from you or damaging your storefront (which happens more often than you might think).

A security guard can help monitor things while workers work inside the store.

Ensure you have an alarm system that can notify authorities of a break-in.

Secure every display case that contains cannabis products or only display empty packaging and store inventory in a locked safe.
Property Insurance
Property insurance protects your dispensary from financial damage due to direct property loss, such as vandalism or office fire. Property insurance typically covers many aspects of your dispensary, including:
Real property, like the building and large equipment

Business personal property, like office furniture or devices

Cannabis inventory
Property insurance works for founders who own one dispensary or multi-state operators, mainly because it functions as single-location coverage or multiple-location coverage, protecting all locations owned by the same company. 
Sometimes property loss can result in more than merely demolishing and rebuilding. Dispensaries can feel other adverse effects, such as lost income from disrupting business operations. Fortunately, this policy covers income lost during the interruption period.
Cyber Liability
Cyber Insurance has transformed from an option to a necessary coverage over the past several years. According to IBM, the cost of a data breach in the US is more than twice the global average, at a whopping $9.44 million. Still, if you're still getting familiar with this protection, it can be challenging to make sense of how it works and why it's worth investing in. Let's discuss why cybersecurity is a growing concern in the cannabis industry.  
During the global pandemic, hackers wasted no time exposing the slightest vulnerability in organizations' networks or software systems. Unfortunately, this increased threat hasn't ended, and dispensaries face massive cyber issues. The risk of damage due to a data breach is significant, encouraging dispensary founders to prioritize cybersecurity measures.
Also, most dispensaries rely on business intelligence tools — POS systems, inventory management software, automated KPI reporting, etc. — increasing their cyber exposure. Even in a typically cash-only environment, hackers can access confidential information in many ways. 
How Much Does Cannabis Dispensary Insurance Cost?
Several factors influence the cost of cannabis insurance, such as market trends and current industry standards. However, here are a few more critical elements an insurer will consider when formulating the final premium cost:

Policy type

Policy limit

Location

Claims history

Company practices

Revenue

Exposures
While the cannabis industry undoubtedly faces unique risks, insurers are more willing to create innovative solutions than ever before. Dispensary founders must establish a solid ecosystem, including a commercial insurance broker specializing in cannabis — much like the veteran team at AlphaRoot. 
_
As a full-service insurance brokerage working with carriers worldwide, AlphaRoot can provide the best coverage possible for your dispensary. Contact the team by emailing [email protected] or calling 646-854-1093 for a customized letter of commitment or learning more about your cannabis insurance options.
Article Contributed by Steve Lynn, BLAZE Marketing Director