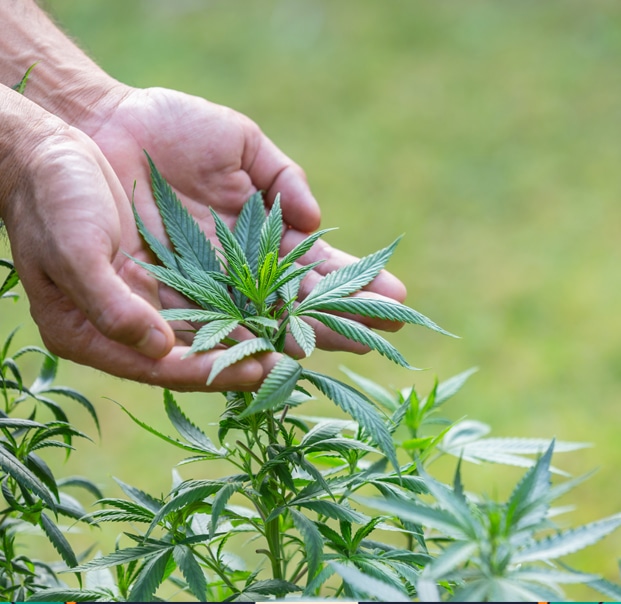 Workers' Compensation for Cannabis Companies
State law usually requires businesses to have workers' compensation insurance, and cannabis companies are no different. Here's the nitty-gritty details about this vital coverage.
On the scale of nice to necessary, workers' compensation insurance is the latter. 
Having adequate workers' comp is crucial for cannabis companies of all sizes — and even if you think you don't need it, the law in your state may mandate it. The most successful cannabis companies understand that protecting themselves and their employees is key to long-term success. 
Understanding Workers' Compensation for Cannabis 
Workers' compensation is a type of insurance that's been around for over 130 years. It was once called worker's accident insurance, and today is referred to as workers' comp or workman's comp. 
This policy protects cannabis businesses by providing coverage for lost wages and medical experiences for any employee injured on the job or ill because of their job. While the main benefit for the employee is straightforward, it's also a fundamental policy for businesses. 
If you don't have workers' comp, you'll be paying these expenses out of pocket, not to mention noncompliance fees, which can eat into your bottom line. 
What Does Workers' Comp Cover? 
A workers' compensation policy is necessary for an employee who experiences a work-related injury or illness. After the event, the employee and employer have a window to explore the situation and process the claim. Depending on your location, this window typically lasts between 14 and 30 days. Once a claim is filed, the insurance company will approve or deny the claim.
Workman's compensation insurance covers a variety of costs, including: 
Disability benefits 

Lost wages 

Medical expenses

Additional healthcare costs related to the incident 

Funeral expenses, if necessary 
Typically the process for filing a workers' comp claim is spelled out in an employee handbook or HR process document. Along with claim information, this document can include safety procedures, workplace protocols, and other safety information. 
Workers' comp coverage only applies to workers that are included in the policy. As new team members are added, it's critical to ensure that your workers' comp policy is current since many carriers have difficulty backdating coverage in the event of an incident. Additionally, some states will issue a fine for an employee on the payroll but not on the workers' comp policy.  
Does Your Cannabis Company Need Workers' Comp Insurance? 
Yes. Workers' compensation is an essential policy for cannabis companies of all sizes. If you have employees, you likely need workers' comp. 
In fact, most states mandate having this policy. Cannabis companies are no strangers to complying with stringent and confusing regulations. This regulation is not specific to cannabis but is vital for every business.  
It's the responsibility of every business owner to understand and comply with the regulations. Not having this policy can mean facing the consequences. Being found out of compliance can mean penalties and fines at the least, and in some states, not having workers' comp insurance is actually a criminal offense. As with all regulations in cannabis, ignorance of the law is no excuse.
Job types and local laws also impact how states regulate workers' comp. Some states with higher concentrations of high-risk jobs experience higher claim and payout rates, which can affect the rate businesses pay for the policy. 
Purchasing a Workers' Compensation Policy for Cannabis
Unlike some cannabis insurance policies like theft, how you can purchase workers' comp insurance depends on what state you're doing business in. 
There are three approaches to workers' comp:

NCCI

. Some states use the National Council on Compensation Insurance to establish the codes and rates for workers' comp. Businesses in NCCI states can purchase the policy through their state directly, or via a contracted insurance carrier. 

Independent

. Independent bureau states don't use the NCCI, but rather develop their own separate rating bureau for workers' comp. Businesses in these states can purchase the policy from a private cannabis insurance carrier, like AlphaRoot. 

Monopolistic

. Some states have a monopolistic market and prohibit private insurance coverage. Instead, they use a state fund to provide businesses with workers' comp insurance. 
Job types and local laws also have an impact on how states regulate workers' comp. Some states with higher concentrations of high-risk jobs experience higher claim and payout rates, which can affect the rate businesses pay for the policy. 
The Cost of Workers' Compensation for Cannabis
Each state with a regulated cannabis market exists in a silo, separate from every other state. Because of differences from market to market, as well as differences between businesses, the price for workman's comp insurance can vary. While the US standardizes classification codes across the country, each state establishes its own rates, so your exact premium depends on your location. 
A general equation to estimate costs is: 
Premium = (Payroll/$100) x Class Code Rate x Experience Modification Rate
If you're a dispensary with a monthly payroll of $100,000 and your rate is $1.50, you can expect to pay around $1,500 in premiums. For an exact quote for your business, contact a representative at AlphaRoot. 
Exclusions for Workers' comp 
Some states have policy exclusions around business sizes or worker types. These vary from state to state and may include the following: 
Businesses with less than five employees 

Independent contractors or freelancers 

Casual or part-time employees 

Nonprofit organizations

Agriculture workers 

Volunteers 

Students 
Do Remote Employees Need Workers' Comp? 
Do remote employees still need to be covered under workers' comp policies? Yes, they do. Whether or not an employee works on-sight is unrelated — they can still sustain injuries or ailments from working their job.
Injuries reported by remote employees include: 
"Cumulative" injuries. These are damage or pain caused by repetitive movements, such as typing, hunching over at a desk, or straining your eyes looking at a screen all day. These injuries tend to center around tendons, nerves, and impact muscles, although

screen-induced headaches

are also on the rise. Poor ergonomics at the workstation are usually to blame and can be avoided with the right equipment. 

Trips and falls. While many businesses have a plan for what to do if an employee trips, slips, or falls while on-sight, most risk management plans still need to include what to do if this happens at home.

 
As mentioned, workers' compensation insurance is typically required by state law; however, it can still be complicated. Teaming with a trusted cannabis broker can ease the stress of compliance. 
_
Protecting your cannabis company can seem confusing; however, we're a full-service insurance brokerage working with carriers worldwide to offer you the best coverage possible. We're here to help! Please reach out to us today by emailing [email protected] or calling 646-854-1093 for a customized letter of commitment or learning more about your cannabis insurance options.