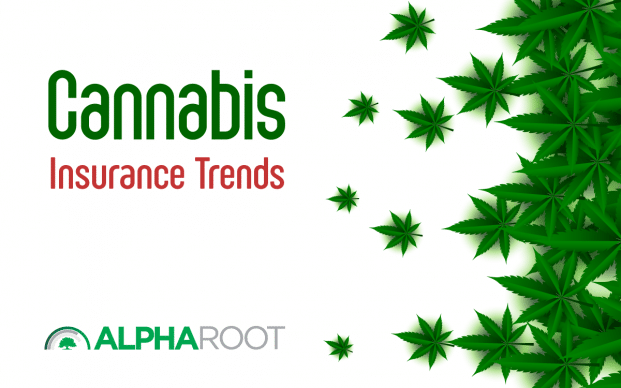 Cannabis Insurance Trends 2020
Plenty of industries are booming nowadays—fintech, on-demand, micromobility, etc. The cannabis industry, however, tops the charts for tremendous growth as well as intense social impact. With so many developments in the last half-decade, success only comes through up-to-date knowledge. When it comes to the cannabis industry and insurance, here's what happened the past year and […]
Plenty of industries are booming nowadays—fintech, on-demand, micromobility, etc. The cannabis industry, however, tops the charts for tremendous growth as well as intense social impact. With so many developments in the last half-decade, success only comes through up-to-date knowledge. When it comes to the cannabis industry and insurance, here's what happened the past year and what to expect in 2020.
Insurance Landscape
The cannabis industry works to balance safety, health, and revenue—all while working in the frame work of state specific legislation and being federally illegal. This uncommon situation, coupled with being an emerging industry, has led to unique challenges when it comes to purchasing insurance.
A major hurdle cannabis companies face on the insurance front is the capability of insurance companies to offer coverage in the space. Many larger, house-hold name insurers are unable and unwilling to provide coverage for these companies due to the federal view of the cannabis plant and its products as a Schedule I drug.  The insurers themselves are either publically traded or have restrictions in their reinsurance treaties which remove this industry from their underwriting appetite.  This has led to a limited market place, creating less competition and thus leading to higher premiums by those insurers who are able to provide the coverage.
The coverage line that has been affected the most by these challenges is for management liability, particularly for those companies who have US based operations. D&O coverage in particular comes at a higher cost for similar level of coverage for more widely accepted businesses, as there are only a handful of insurers who can provide comprehensive coverage.  Comprehensive coverage in the space does come at a cost.  While there are some cheaper options on the market, many of those include Cannabis specific or regulatory related exclusions.  These exclusions greatly limit how coverage would react in the instance of a claim, leaving companies exposed even though they've purchased 'coverage'.
On the property and casualty front, an issue many clients experience is in regards to bundling coverage across business operations in multiple states. MSO's have had to rely heavily on separate policies for each state in which they operate, which can lead to issues ranging from how claims are paid out (i.e. multiple named insureds on multiple policies) to the logistical nightmare of managing upwards of 20+ policies for larger operators. AlphaRoot has been able to help clients navigate this problem, and have partnered with specific carriers who have adapted and started writing across state lines.
Insurance Products
Many industry experts believe that we'll continue to see class action lawsuits surrounding deceptive business operations. No matter what trends 2020 brings, it's safe to say that insurance companies have been transforming their products since 1996 when California first legalized cannabis for medical purposes.
Because the industry still carries a stereotype of instability, many carriers only offer key coverages, such as general liability, property liability, and product liability. However, more insurance products are being developed continually, including :
Manufacturing insurance
Dispensary insurance
Building insurance
Cultivation insurance
Laboratory insurance
Transport insurance
Pricing Trends
Cannabis insurance has plenty of unique variables that factor into its overall cost. That said, premiums, coverage, and limits vary among providers. However, some elements that affect rates include:
Size of the company
Business operations (fully integrated from seed to sell, plant vs non-plant touching, etc)
States in which the company operates (is it a Multi-state operations)
Is there a US presence?
Insurance coverage selection
Claims history
Compared to other industries, cannabis doesn't have years and years of risk tables to dissect. As a result, many carriers are somewhat cautious about approaching the market. Prices tend to remain conservative with the young industry. Still, quality insurers are available who understand this particular business well.
AlphaRoot Predictions
Short-Term Market Contraction and Hardening
AlphaRoot predicts that the cannabis industry, not unlike the rest of the insurance marketplace, will continue it's contraction and hardening presented in 2019.  Due to claims and regulatory concerns, a number of markets who previously dipped their toes in the space will and have changed their appetites in the start of 2020.  Below are two examples of the changing capacity and underwriting appetite for the cannabis industry:
The Bermuda marketplace can no longer write risks with a US presence. Along those same lines, the London marketplace remains hesitant to write any cannabis risks regardless of location.
Depending on operations, the insurance marketplace has had a shifting appetite toward vape related exposure due to the vape crisis. AlphaRoot has seen a number of insurers pull back on their ability to offer coverage for vape related exposures.
Adaptation of Traditional Insurance Products to the Cannabis / Hemp Industry
AlphaRoot has been in contact with a number of companies looking to offer creative risk solutions for those in the cannabis and hemp spaces.  These companies are taking traditional insurance products, such as weather modeling for crop insurance, and tailoring that toward the cannabis space for both indoor and outdoor growers.
Growth of Cannabis Advocacy Groups
AlphaRoot has built unique relationships with industry leaders to bridge the gap of education and insurance in the cannabis space.  The National Cannabis Risk Management Association (NCRMA), for example, is the only association focused on cannabis risk management. Through a disruptive and broadly encompassing  platform, the NCRMA provides education and risk mitigation strategies for cannabis companies that positively impact  all aspects of the business. As an Appointed Broker of the NCRMA, Alpha Root has met the criteria as dictated by the NCRMA membership as to how a broker is to properly service those in the cannabis space.
Understanding the details of what coverage your company needs can be a confusing process. AlphaRoot specializes in knowing the risks your industry faces to make sure you have adequate protection. Feel free to reach out to us, and we'll walk you through the process of finding the right policy for you.
---
Want to know more about cannabis insurance? Talk to us! You can contact us at ​[email protected] or create an account ​here​ to get started on a quote.