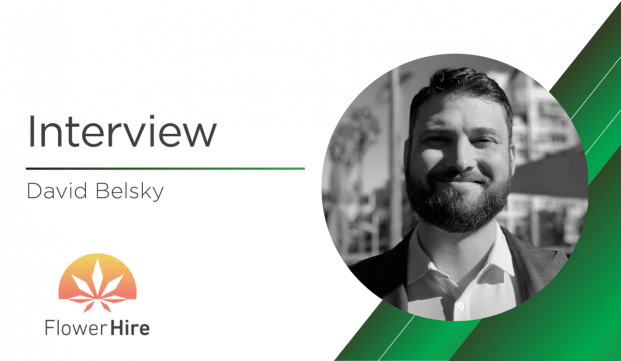 FlowerHire Interview: COVID's Impact on Hiring In the Cannabis Industry
We cover the global pandemic's impact on hiring in the cannabis industry in an interview with David Belsky, CEO of FlowerHire. Let's review how the industry's future might look.
We sat down with David Belsky, CEO of FlowerHire, to discuss how COVID-19 has impacted hiring in the cannabis industry. David talks about job growth, investment, legal climate and the future outlook.
David Belsky brings 15 years of recruiting industry experience to his role as Founder and CEO of FlowerHire, an executive talent firm that has established itself as an invaluable service in the cannabis industry. After quickly rising in the leadership ranks and helping to scale a $250 million technology recruiting agency, David followed in some of his key mentors' footsteps by joining the cannabis industry in 2017. Since then, FlowerHire has grown to become the leading bridge-building and talent advisory firm, seeding industry leaders into the companies that are actively shaping the cannabis market, facilitating more than 300 placements in 10 states. David graduated from Cornell University with a degree in Industrial Relations.
---
What were the industry's sentiment and hiring patterns pre-COVID-19?
Job losses in the cannabis sector accelerated in Q3 and Q4 of 2019. During this time, many public company valuations took a sharp decline. Also, private companies that raised money on sky-high valuations could no longer defend those valuations when investors asked to see a path to profitability.
Although residual layoffs have continued in 2020, we have seen more job growth than job contraction within the cannabis industry. Many of the people who lost their cannabis jobs in 2019 and due to COVID have been able to find new homes within the cannabis space because cannabis businesses often look for candidates with experience outside of the industry, as well as an understanding of what makes cannabis unique.
How have companies in the industry been dealing with COVID-19 as it relates to its hiring/firing practices? Has it been hit as hard as other industries (i.e., hospitality)? Has being deemed essential in certain states helped stem some of the impact?
FlowerHire is a leading bridge-building and talent advisory firm, seeding industry leaders into the companies that are actively shaping the cannabis space. After 3 years of operation, we're busier than we have ever been. This is partially due to the essential service's designation, which has bolstered the legitimacy of the industry.
Although other industries, such as hospitality, have been hit hard, cannabis companies continue to staff up. This can be attributed to the continued growth of the cannabis market across the country. Facilities have been opening up rapidly in California, while licenses have been won in states like Massachusetts and Michigan, both of which are newer recreational markets. Even in Pennsylvania, the medical market has taken off.
Are there any subcategories of the industry that have actually seen a spike in hiring needs over the last 2 months? I know we have a number of clients who do delivery and they are doing quite well right now and continuing to grow. 
With the essential service's designation, operators that were planning on opening new facilities, cultivation sites, and retail stores have been able to continue to do so. In order to make these assets operational, these companies have needed to hire accordingly for cannabis jobs.
In markets that have remained open, fewer shoppers have been going to stores, but they've been stockpiling. For this reason, there's been a surge in delivery sales, in turn, leading to increased demand for delivery workers. Recreational markets that were closed down, like Massachusetts, experienced sales reductions and a lack of hiring for cannabis jobs.
What do you think the likelihood is that the Cannabis industry can / will be used in any future stimulus plans as a means to provide jobs/tax revenue during these unprecedented times?
I believe that COVID-19 will be a net positive for the cannabis industry because during this time the market has been spotlighted as a viable revenue source and job creator for state and local governments.
The cannabis industry has the potential to create more than one million cannabis jobs in the United States within the next five years. Very few industries are able to say the same. Federal legalization of cannabis would provide economic stimulus through tax revenue and job creation during the COVID-19 recovery.
We've seen the benefits of cannabis tax revenue on communities, most notably in Colorado. In 2014, the state legislature created the Marijuana Tax Cash Fund, which funneled sales tax revenue from retail and medical marijuana dispensaries back into the local education and infrastructure. This was and continues to be successful, and has the potential to be replicated on a national scale.
Where do you see the industry going post-COVID-19, both overall and from an employment perspective?
Cannabis is always going to be an unpredictable market. I think the forces of growth will far exceed the forces of decline due to the opening of state markets and retail locations. The big unknown is what the federal government will do. If the federal government does legalize cannabis, we're looking at a strong economic recovery and an increase in hiring. However, if the government doesn't move forward with legalization, which is likely, we're looking at the continued growth of illicit markets, discrepancies related to licensing and a longer road for economic recovery.
---
Protecting your psychedelics company can seem confusing; however, we're a full-service insurance brokerage working with carriers worldwide to offer you the best coverage possible. We're here to help! Please reach out to us today by emailing [email protected] or calling 646-854-1093 for a customized letter of commitment or learning more about your cannabis insurance options.