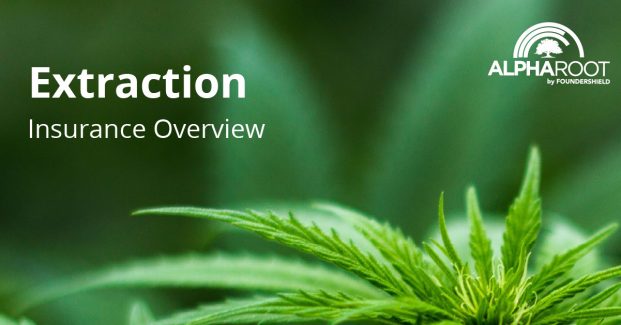 Insurance for Cannabis, CBD & Hemp Extraction Companies
Download our coverage overview for cannabis extraction companies here. We have the pure crop now what do we do!? Extraction techniques are used to separate the components of cannabis and remove them from the base plant. Cannabis extraction is used to isolate specific compounds, including CBD and THC. This process is very labor […]
Download our coverage overview for cannabis extraction companies here.
We have the pure crop now what do we do!? Extraction techniques are used to separate the components of cannabis and remove them from the base plant. Cannabis extraction is used to isolate specific compounds, including CBD and THC. This process is very labor intensive, requires a great deal of equipment and is generally performed at large facilities.
There are many carbon-containing compounds that, without the right formation, end up producing carbides, carbonates, and cyanides. This delicate balance is why the extraction of the THC and CBD is an essential step in the best consumer experience. Prioritizing their needs and ensuring their success takes a considerable apprehension. 
Risks that Cannabis Extraction Companies Face
Workplace Safety: 
Most risks associated with the extraction business revolve around employee safety.  You'll see below that Workers Compensation is a state requirement and for good reason.  Depending on the extraction method, your employees are subject to a number of different high hazard exposures.  Take for example butane extraction, your employees are subject to the highly flammable nature of butane and require strict safety guidelines to be followed to ensure a safe extraction.  In the event these guidelines are not followed and an employee is injured, the company could be held liable beyond the employee injury by not following safety measures.  
MJ Biz provided an example of this loss a few years ago of a reported $9M lawsuit filed by an injured employee in a factory explosion. 
Cannabis Extraction Equipment: 
Similar to employee safety, it's also financially imperative that extraction equipment is kept safe / insured.  Given the up-front costs associated with this equipment, many companies cannot withstand a loss to a piece of uninsured equipment. 
Hemp DEA Ruling (2020)
This is more applicable to those concerned with the Hemp CBD space.  As we're sure you've read by now, the DEA released their interim rule which seemed to muddy the CBD waters even more.  The piece unclear for extraction companies is that the DEA neglected to comment on whether product testing at over 0.3% THC during any point of the extraction process is deemed illegal.  Given the uncertainty associated with this ruling, this is both a risk and an uncertainty that the industry faces. 
(https://www.natlawreview.com/article/new-dea-rule-creates-more-uncertainty-legality-cbd-extracts). 
Secure down the open liability; Risk Management Insurance Can Help!
Premises General Liability
This is a third party liability coverage that is intended to protect a company for incidents that occur on their property. For an extraction operation, this coverage is important should someone who is not a member of the operation come to the facility and hurt themselves.
Product Liability 
Like general liability, is a third party liability coverage. The difference stems from the covered incidents. Product liability coverage is specifically created to provide coverage for bodily injury due to the use of your product. For an extraction outfit, even if the extracted products are not sold under your brand, you may be tied into a lawsuit should someone get hurt or sick from the product that you extracted / manufactured. Property Coverage (Equipment and Buildings)
Property Insurance 
Property coverage is a first party insurance policy that is intended to make a company whole again should they experience a covered loss. For an extraction company, this policy would look to cover the equipment and buildings that are used throughout the extraction process.  As you very well know, the extraction equipment, depending on method, is not something most companies can afford to lose if uninsured.
Workers Compensation Insurance (Employees)
Workers' Compensation and Employers Liability (a portion of the WC cover) are both intended to cover injuries that employees sustain during the course of their work and are typically required by state law.  Given the nature of the extraction business and the exposure to heavy equipment / heat / gas, it's crucial that coverage is secured prior to operations starting.
Directors & Officers
Directors & Officers insurance or D&O insurance as it's commonly referred to as is intended to cover the directors and officers from investor lawsuits involving mismanagement of company funds, misrepresentation, For any company who has taken outside investment, this coverage is important and in many cases required by your board of directors.
Employment Practices Liability (EPL)
Employment Practices Liability or EPL insurance is a labor law coverage which responds to claims arising from invasion of privacy, wrongful termination, sexual harassment, etc. In the current legal landscape we recommend it as a standard coverage for companies with any number of Employees.
 From the fertile seeds that it grows from to the mass market production, the key liability with a bit of green thumbs and secure liability allows the growth path to remain secure. 
Founder Shield and AlphaRoot want to help keep farmers, distributors, dispensaries safe so that they can keep with the passion and business they do best.
AlphaRoot is a full-service insurance brokerage completely dedicated to strengthening and supporting the Cannabis extraction industry. If you'd like to learn about building a risk management program for your operation, reach out to us at [email protected]m