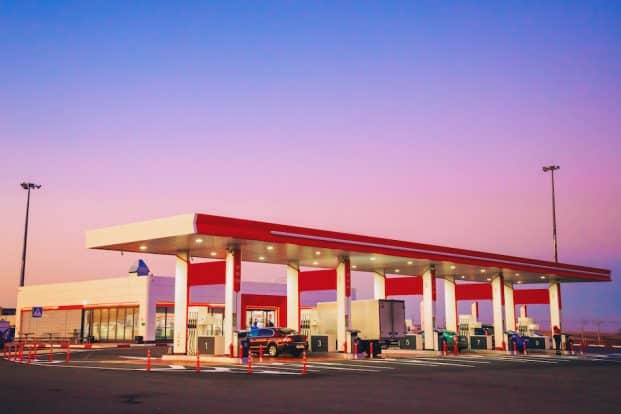 RISE Express Lease Agreement With Circle K — What You Should Know
Green Thumb Industries, a cannabis CPG company, announced its RISE Express will enter a retail partnership with convenience store chain Circle K. Here's what we know about this new development and what it means from a risk management perspective.
Have you heard the news? In late October, Green Thumb Industries, a cannabis CPG company, sent the industry into a tailspin when it announced a retail partnership with convenience store chain Circle K. The location of the partnership (Florida) raised as many eyebrows as the idea of distributing medical cannabis out of gas stations. Many wondered if this was a positive development or if it would even come to fruition. At AlphaRoot, we're looking at this potential partnership through a different lens than most — risk management. Let's explore how such a teaming could impact insurance policies and risk management plans. 
What's the Deal With RISE Express and Circle K?
Let's take it from the top. In October 2022, Green Thumb Industries, operator of RISE dispensaries, sent out a press release detailing the company's new agreement with convenience store chain Circle K. Green Thumb was going to lease space from ten of Circle K's 600 Florida locations to create RISE Express locations. Thes stores would offer medical patients a selection of cannabis products, including flower, pre-rolls, gummies, and vapes, starting in 2023. 
When this news broke, it took the cannabis industry by storm. Green Thumb has been a part of the Florida medical market since 2018 and is in the final stages of opening a new cultivation facility in Ocala. Circle K is a major player in Florida, with retail locations throughout the state. At first glance, this partnership seemed to open the door to increased availability for patients to get the medication they needed. 
But, of course, the reality is more complex. Saying that a gas station in Florida would sell weed made good headlines, but it was misleading — the convenience stores simply agreed to lease space to Green Thumb, not stock pre-rolls between the Cheetos and potato chips. There's just one problem — Florida's department of health, which oversees the medical cannabis program, never agreed to the deal. 
Will this partnership move forward? At this point, it's impossible to say. But for argument's sake, let's explore the ramifications it could have if it did. 
Why Is This Potential Arrangement Meaningful to the Cannabis Industry?
Selling cannabis from gas station (adjacent) locations would be a major shift in how patients access their medications and could have ripple effects that bleed out into fully legal states. Cannabis consumption has been on the rise over the past several years, and people want more access. What could be easier than grabbing an eighth and a tank of gas in the same place?  
Even though over half of Americans live where cannabis is fully legal, there is still much stigma and negativity around it. More access to cannabis could help further remove the stigma around the plant. Creating greater access for medical patients could help sway the minds of people who have yet to grasp the true medical potential of the plant.   
It could also change the meaning of "gas station weed." Currently, gas station weed is industry slang for poor-quality products bought by people who don't know any better or don't have any other options. Having medical-quality, tested products available in gas stations (or next door) could shift this perception. 
It's also a first-of-its-kind partnership. So far, no other cannabis CPG or retailer has attempted a partnership with a retail location like this; the first always sets the standard. It's also worth noting that Green Thumb is attempting to launch this in Florida, a comparatively conservative cannabis market compared to states like Colorado or California. 
How Could RISE Express and Circle K Influence Cannabis Insurance?
A partnership like this wouldn't just change perception — it could have a ripple effect throughout the industry. Cannabis retailers have specific insurance policies that often go above and beyond other types of retail. A property insurance policy for a dispensary is certainly different than one given to a gas station, and bringing the two together creates an interesting scenario for cannabis brands and the companies that insure them. 
Property insurance is necessary for every cannabis business with a physical location but is particularly important for dispensaries, which are at a higher risk for theft. Property insurance protects a retailer's bottom line by reimbursing for direct property loss, including product, lost income, and lost payroll. 
While gas stations can also be at higher risk for theft, they don't have the same regulatory compliance risks as cannabis businesses, so their property insurance policies look different. 
Typically, property insurance policies are issued to businesses in a location with a single use. Combining the use of a location, such as for a convenience store and a dispensary, creates an interesting situation that has increased product exposure. While it's certainly not impossible to insure a mixed-use location, it adds more complexity to an already-complex policy and increases exposures for both businesses. 
It also creates a situation where higher levels of risk management are needed. In this instance, it would be of the utmost importance to work with an insurance company that understands the complexities of the cannabis market. 
What Should We Expect in the Future of Gas Station Cannabis?
Will this agreement move forward? It's hard to say. Circle K and Green Thumb could come to an agreement with the Florida Department of Health, or the department may be angered by learning about this agreement in the news. Predicting how this unique situation will move forward is like betting at the race track — you make an educated guess, but it could go any which way.
The location of this partnership is also noteworthy. As mentioned above, Florida isn't a typical cannabis trendsetter, and many people in the industry have a firm block against gas station weed. But who knows? Cannabis is an industry full of surprises. 
It is a step in the right direction — even if the deal flops —  because it's pushing outside the typical cannabis dispensary idea and exploring other options. We've spoken before about innovation in the cannabis industry, so this certainly won't be the last time the industry is caught off-guard by a partnership agreement. 
One thing is for sure — we'll keep our eye on this partnership and keep exploring the unique risk management challenges it presents. 
---
Protecting your cannabis company can seem confusing; however, we're a full-service insurance brokerage working with carriers worldwide to offer you the best coverage possible. We're here to help! Please reach out to us today by emailing [email protected] or calling 646-854-1093 for a customized letter of commitment or learning more about your cannabis insurance options.