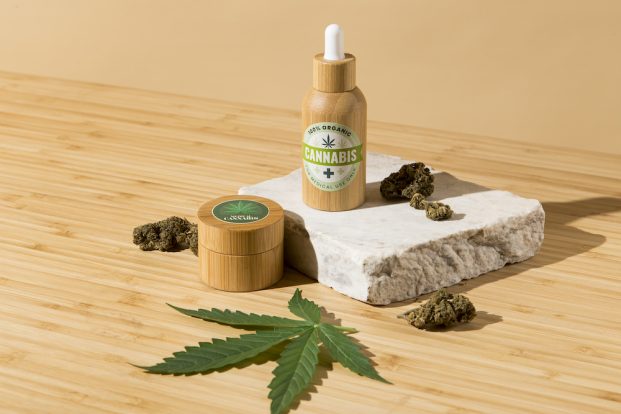 5 Legal Liability Issues CBD Wellness Companies Face
Although CBD wellness companies are a permanent part of the cannabis industry, they face unique legal issues. Here's what we know.
Working in the CBD wellness space is a complicated endeavor. As a permanent fixture in the cannabis industry, this cannabinoid is federally legal, with a plethora of scientific studies backing its benefits — but it's still challenging to operate as a CBD wellness business. 
CBD faces particularly tricky issues in the wellness space. The Food and Drug Administration (FDA) has approved the cannabinoid for use in medications, which means it can't be marketed as a food supplement or wellness product. But many consumers are most excited about the health and wellness benefits, putting CBD companies in a challenging position. Here are five legal liability issues you need to know if you have a CBD wellness company.  
Understanding the CBD Landscape
CBD is an area of rapidly growing demand due to this compound's proven health benefits and non-intoxicating qualities (unlike THC, it won't get you high.) This demand has made CBD an area of interest for venture capitalists because it's a legal way to ride the growing wave of cannabis legalization. Since financing can be hard to come by in cannabis, this is decidedly positive. Here are some other "fast facts" of interest:
CBD is federally legal as long as it is derived from hemp plants and contains less than .3% THC. 

The 2018 Farm Bill revitalized the industrial hemp industry and created consumer demand for CBD products. 

The FDA has also approved CBD in a medication called Epidolex, which can treat seizures. This approval puts limits on what market language CBD companies can use. 
Although CBD was legalized in 2018, it wasn't until the pandemic hit that sales really started to take off. In 2020, CBD sales hit $4.6 billion domestically. The pandemic created the perfect storm for growth in the cannabis industry (sales across all legal states were at an all-time high). Still, CBD presented an opportunity for even the most cannabis-adverse consumers to dip their toes into trying the plant — thousands of people loved it. 
CBD is even making its way on the stock market. While most CBD companies are still privately held, there are a handful of companies on the open market, including: 
Canopy Growth 

Charlotte's Web

Cresco Labs 

Jazz Pharmaceuticals 

The Valens Company 
Legal Liability Issues
CBD may be an industry of growth, but with all opportunities come specific challenges as. 
1. Product Quality 
There's no denying that the CBD industry has a quality issue. Without a standardized set of rules and regulations for ingredients and testing, the CBD market is a little like the wild west. 
There are hundreds of reputable companies putting out high-quality products — but there are also less-than-reputable businesses selling low-quality products at outlets like gas stations, seeking to capitalize on the CBD wellness trend. A consumer only has to experience one of these sub-par products to become wary of CBD. But low-quality products aren't just bad for consumers; they're a legal liability, particularly if they're incorrectly labeled.  
2. Product Labeling
A 2022 study released by Johns Hopkins Medicine tested 105 CBD products to explore label accuracy. Only 89 products listed the amount of CBD on the product; of those, only 24% had accurate labels. Disappointingly, 18% of the products contained less CBD than advertised, and an astonishing 58% contained more CBD than advertised. 
But where companies can run into legal trouble is inaccurate THC labeling. Alarmingly, 11% of products labeled "THC free" contained THC. Many consumers who use CBD do so because it won't get them high or show up on a drug test. But if a product contains THC when it says it doesn't, and a consumer fails a drug test because of it, that's a potential lawsuit. 
3. Marketing Language
Although CBD is federally legal, there are strict limits on the claims you can make about it. Despite many studies proving CBD has anti-inflammatory and pain-relieving properties, the FDA has not approved CBD for any wellness use. 
While the government has funded studies that back the benefits of CBD, you still have to play by their rules or risk facing a cease-and-desist letter (or worse.) It's essential to use the correct language when talking about your CBD product— it can help or assist with wellness concerns, but it cannot fix or treat any condition. 
4. Regulatory Compliance 
As with all aspects of the cannabis industry, CBD companies must navigate and comply with federal, state, and local regulations. These regulations are often confusing and subject to change, but ignorance of the law is no excuse for non-compliance. It's far from the most fun task a CEO of a CBD brand has, but understanding all of the regulations and staying abreast of changes is crucial for continued success.  
5. D&O Litigation
Are your leaders protected? Directors and officers of CBD wellness companies face unique challenges, from fiduciary liability to mismanagement accusations. In public and private CBD companies, directors and officers can face lawsuits from investors, shareholders, and competitors. 
Protecting the assets of individual personnel is not something a general liability policy covers, and you don't want to wait until you're in the middle of litigation to realize your officers aren't covered. Cybersecurity issues can quickly morph into D&O litigation, putting more pressure and responsibility on leaders. 
Directors and officers litigation is a nuanced market and coverage. Working with a team who understands the intricacies of this policy and the cannabis market is a differentiator for companies looking to set themselves up for long-term success. 
How to Mitigate These Exposures
CBD wellness companies must navigate a stormy sea of business and financial exposures — but you don't have to do it alone. You can take action steps from creating a risk management plan to working with a team who understands the cannabis market to ensure your business and assets are protected. 
Mitigating your exposures won't avoid risk — but having a plan in place creates a safety net for when things go wrong (and sooner or later, something always goes wrong). 
Protecting your cannabis company can seem confusing; however, we're a full-service insurance brokerage working with carriers worldwide to offer you the best coverage possible. Having the right commercial insurance broker team behind you means you can do business confidently, knowing that your exposures are covered, and you have experts in your corner. We're here to help!  
---
Please reach out to us today by emailing [email protected] or calling 646-854-1093 for a customized letter of commitment or learning more about your cannabis insurance options.