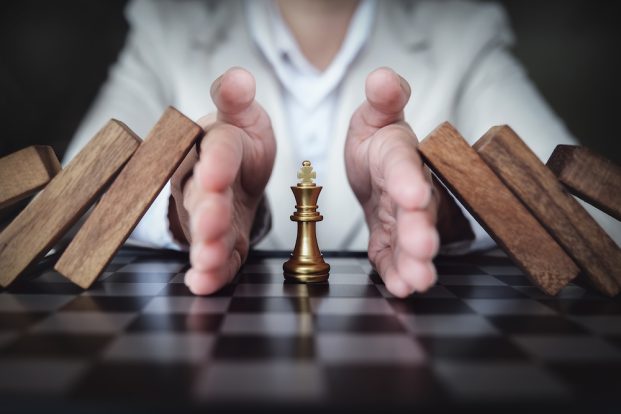 Cannabis Startups: Why High-Growth Plans Require Savvy Risk Management
High-growth cannabis startups often set impressive goals — but big dreams also mean utilizing sophisticated risk management plans to keep you moving forward. Here's why.
Profits aren't the only thing that grows as your business evolves. As you scale your company, your risk increases; thus, your risk management plans must also grow. Here's what cannabis startups need to know to keep high-growth goals on point.  
Growing Your Profits Means Taking on More Risk
To be a high-growth startup is to navigate risk endlessly. The most successful companies do this well because they take calculated risks and have a strong safety net underneath them. But the risks you faced at the start of your company aren't the same risks you face during a high growth stage. Managing evolving risk is a differentiator of successful companies. 
But navigating growth can come with some tricky (or confusing) aspects to manage. For example, when you purchase an insurance policy, you do so with a contractual coverage amount. When your profit margins grow, the requirements of your policy may shift or change to accommodate your new coverage needs. Additionally, this growth may change the policies your business must be named on with your partners — which can quickly get confusing.
---
Pro Tip↓
 Being named as an additional insured is a topic we've written about more in-depth in another post: Insurance Requirements High-Growth Cannabis Companies Must Navigate
---
Fast growth also means shifting your goal posts. If you set one revenue goal at the start of the fiscal year and have already surpassed it by Q2, setting the second financial goal is exciting — but it can also mean re-evaluating your risk management plans. Are you still covered with your increased revenue? Do you need to re-evaluate or add insurance policies to accommodate this change? 
You can avoid much of this confusion by working with a broker that understands the nuances of the cannabis space and is happy to walk you through any changes that new profit margins bring. 
Investors Want Asset Protection
Before
Investing
Risk management is critical at every stage of your business (we can't say that enough!) but especially if you're at the stage where you're seeking investors. Venture capital (VC) investors want to know that there are fail-safes in place for their investment before they've given you a single penny. Risk is inevitable but managing your risk is optional — and necessary to source funding. 
The strength of your risk management plan matters, too. Basic coverage plans, like theft and property damage, are a starting point. But for high-growth startups, these policies aren't enough to cover all of your exposure. 
VC investors want to see forward-thinking companies with coverage to protect assets now and in the future. Policies like directors and officers (D&O) coverage are typically required before a Series A or B funding round to show that you can protect every facet of your company, not to mention your VC's investment.  
---
Pro Tip↓
Need a detailed guide to help you navigate the D&O insurance market? We've got one here: Cannabis D&O Insurance Guide
---
Cannabis Risks Are Ever-Changing
High-growth startups must navigate changes within the office, the market, and the industry as a whole. Cannabis laws and policies are frequently changing, particularly for companies that operate in multiple states. Ignorance of the law is no excuse for non-compliance, and being found out of compliance can get expensive fast.  
Risks outside of the industry can also affect your bottom line. The cannabis industry doesn't exist in a vacuum and is affected by factors from other industries, such as tech. As our digital world continues to grow, so does the risk that companies face within the digital landscape. Some cyber exposures often impact the insurance landscape significantly, increasing premiums and creating a tough market to traverse. 
It's wild to think that only 20 years ago, the digital risks companies faced today were unheard of — but now businesses must navigate the risks of storing data online, such as cyber security breaches. These changes can affect cyber liability premiums, which affect your insurance costs. This example is just one of the evolving risks that come from an industry outside of cannabis yet still affect canna-business owners. 
---
Protecting your high-growth cannabis company can seem confusing; however, we're a full-service insurance brokerage working with carriers worldwide to offer you the best coverage possible. We're here to help! Please reach out to us today by emailing [email protected] or calling 646-854-1093 for a customized letter of commitment or learning more about your cannabis insurance options.