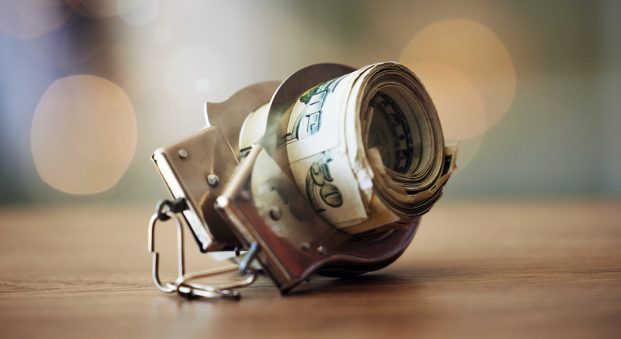 Cannabis Crime Insurance — What You Should Know
Cannabis companies face robberies and fraud like any other business, especially in the industry's cash-only environment. Here's how crime insurance protects your organization from these direct damages.
Cannabis crime statistics are often all over the map, highlighting the inequitable situation between states, according to Forbes. For example, a cannabis-related action in one state may face severe consequences but render no penalties in another. However, robberies and theft face serious jail time and penalties in all US states. Unfortunately, cannabis companies are often the victims of these crimes. As a result, crime insurance works to protect cannabis companies from such damages. Let's dive deeper into what this coverage provides. 
Understanding the Cannabis Crime Landscape
Some individuals and communities argue that recreational cannabis legalization increases violent crime, while others think it decreases it. Although more studies point to the latter outcome, cannabis operations face as much crime risk as any similar company. 
For example, armed robbers in San Mateo County (California) broke into a cannabis farm to steal marijuana and supplies in late July 2022. Law enforcement considered the situation to be severe and launched an in-depth investigation.  
Several cannabis retailers endured more than 30 robberies in Whatcom County (Washington) in 2021. No one knew for sure if it was the same group or a copycat committing the string of crimes. However, the robberies impacted the retailers tremendously, creating a less-than-friendly store environment for customers. 
Although dealing with crime isn't new, the way criminals carry out their crimes has changed. Sure, old fashion robberies continue to happen, as evidenced in the above examples. However, cannabis crime has recently become sophisticated, even top-tier sneaky. Fortunately, cannabis crime insurance helps to mitigate the damage criminals can inflict on companies.  
What Is Cannabis Crime Insurance?
No longer do thieves dumpster dive for confidential information. Instead, bad actors sneakily provide employees with fraudulent transfer information, using stolen information to steal money. Sure, it might seem relatively straightforward; however, many scammers now use this tactic to make a dishonest living.
Unfortunately, cannabis companies aren't immune to these scams or money theft. More than some industries, cannabis companies are likely more of a target for these crimes, mainly because of the cash-only industry. Of course, the SAFE Banking Act may change that status soon. 
---
Pro Tip ↓
Want to know more about the SAFE Banking Act? Here's our recent update: SAFE Banking Act Update of 2022
---
At the core, cannabis crime insurance covers money theft, and yet fraud comes in many forms. The following are some everyday situations that cannabis crime insurance covers:
Employees stealing money from the company or clients

Inadvertently accepting forged checks or counterfeit money

Non-employees stealing from the company's office or the premises of the company's bank

Robbery of valuables while in transit under the care of a messenger or armored car

Computer and wire transfer fraud
Why Do You Need Crime Insurance?
As mentioned, crimes can occur in various ways, and no two scams are alike. None of us want to imagine that our employees or we might fall victim to criminal activities, such as scams or robberies. But these situations happen daily, and a criminal's ultimate playbook is ever-expanding. 
As a result, we've narrowed down a handful of popular tactics to consider as prime reasons to get cannabis crime insurance, such as:
Cybercrime

: Although cyber liability and crime insurance cover two distinct types of crimes carried out online, cybercrime is still a criminal threat. Hackers can breach a cannabis company's network, incurring a direct financial hit to the organization, which ties in with the next point.

 

Employee Theft

:

Hiring good, honest employees is critical to developing a successful cannabis business. Unfortunately, genuine efforts don't always pan out. According to Verizon's recent Data Breach Investigation, over

70% of data breaches include an employee abusing their data privilege

.

Social Engineering

: P

hishing is possibly the most widespread example of social engineering. These scams often unfold as blatant as a criminal pretending to be an authority figure. Employees often fail to question the validity of the interaction.

 
---
Pro Tip ↓
Want to know the deets about crime vs. cyber liability insurance? Here's our recent post: What's the Difference Between Crime and Cyber Insurance?
---
What Does It Cover?
Depending on your particular cannabis operation, consider adding enhancements for broader coverage. However, a typical crime policy covers the following:
Virus restoration or computer program and electronic data restoration expenses

Licensing violation fines and penalties

Personal accounts forgery or alteration

Identity fraud expenses
What Does It NOT Cover?
Cannabis crime insurance isn't a catch-all policy, and exclusions exist. For example, crime insurance won't cover:
Criminal acts by executives

Loss of income

Indirect loss

Exposures covered by other policies
The Next Step
Protecting your psychedelics company can seem confusing; however, we're a full-service insurance brokerage working with carriers worldwide to offer you the best coverage possible. We're here to help! Please reach out to us today by emailing [email protected] or calling 646-854-1093 for a customized letter of commitment or learning more about your cannabis insurance options.